Eighty-year-old man attacked by roo in 'jam and cream' accident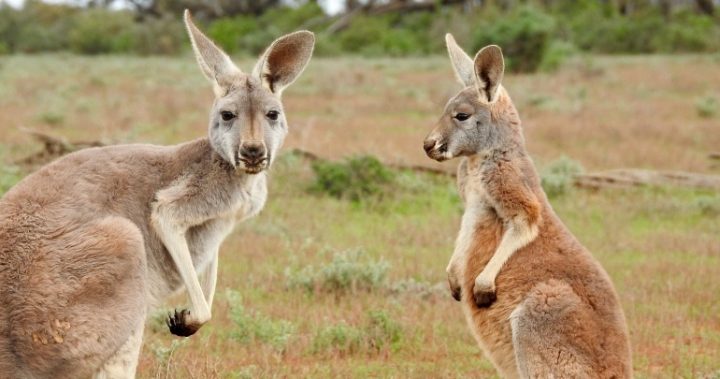 An 80-year-old man has been severely injured by kangaroos at his property after attempting to feed the powerful marsupials "jam and cream on toast", a new report has revealed
Paramedics were called to the property on the south coast of New South Wales, where the man was treated for multiple cuts on his lower legs.
Neighbours told AAP that in "one of the gashes you could see the bone".
Rob Hilliar, one of the paramedics who attended the incident, revealed that the man regularly fed the roos, but unfortunately for an unknown reason one of the animals became aggressive and "pushed him over". In a statement from the NSW Ambulance Service,  Hilliar said: "He's a lovely bloke who spoils them a little, feeding them jam and cream on toast.
"On this occasion one of the roos was in a bad mood and pushed him over."
Ad. Article continues below.
After being treated at the scene, the man taken Milton Ulladulla Hospital  and is now in a stable condition.
Kangaroos have an extremely strong set of hind legs and can cause a lot of damage with their sharp claws and muscular body. Though not known to attack humans, kangaroos can be territorial and, as in this case, can be an imposing animal if they feel threatened.
The NSW Office of Environment and Heritage warns against feeding native Australian animals.
"When kangaroos and wallabies become used to being hand-fed, they sometimes attack people in their quest for food. Remember, they have sharp claws and a strong kick …  If possums and gliders get used to being fed by humans, they spend less time foraging and more time raiding your tent or kitchen," it cautions.
"Goannas find it difficult to distinguish between your hand and the food in it. A goanna bite or scratch is very painful and prone to infection as these animals are scavengers. Never feed a goanna – they are dangerous animals."
According to News.com.au, which was reporting the AAP story, the incident was one of 38 kangaroo-related accidents that paramedics attended between August and October.
Would you feed kangaroos by hand? What do you think about feeding local wildlife? Does it do more harm than good?