Eddie McGuire cops backlash over women's AFL diss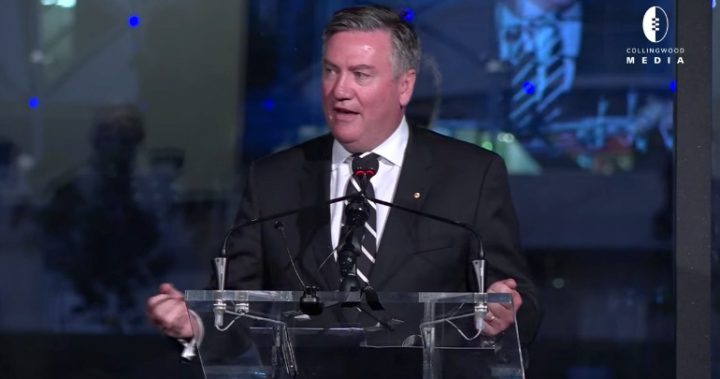 Eddie McGuire is facing some serious backlash today after he was a no-show at the launch of the women's AFL season at the weekend.
Collingwood took on Carlton for the opening game, but the Magpies president was nowhere to be seen, instead attending the fight between Anthony Mundine and Danny Green.
This morning, a number of radio hosts around the country took aim at McGuire, saying he should have been there to support the girls and the club.
Amanda Keller was on her show, the Jonesy and Amanda Breakfast Show, on WSFM when she let lose, saying he should have cancelled his other commitments.
"You know who wasn't there? Eddie McGuire, who is the president of the Collingwood Football Club. On that momentous day, the president of the Carlton Football Club, he made some lovely comments that I saw on social media. Eddie McGuire wasn't there. He chose to host Danny Green and Anthony Mundine and their fight in Adelaide and he missed attending his club's women's team's first momentous game.
Ad. Article continues below.
"Eddie you should have been there, it was important, you should have been there."
It's not the first time McGuire has been embroiled in a spat over women in sport. Last year he was forced to issue an apology for his remarks about sports journalist Caroline Wilson, when he jokingly said he would like to drown her.
Collingwood chief executive Gary Pert also failed to show up for the opening game, but said both he and Eddie had good excuses.
"There's a very good reason why myself and Ed weren't there," Pert told SEN.
"Ed had commitments to do with his job and the work that he does Monday to Friday … People can sit there and go maybe Ed wasn't there for one event because of other commitments, but I see the work that he's put in over the last year or two to actually help get this competition up and get Collingwood's team (up).
"He's done a massive amount of work and is such a passionate supporter of the women's team and all the girls in the team would know that."
Do you think Eddie should have been there? Are you glad to see women's AFL becoming more popular?