Duchess of Cambridge makes a gorgeous appearance in London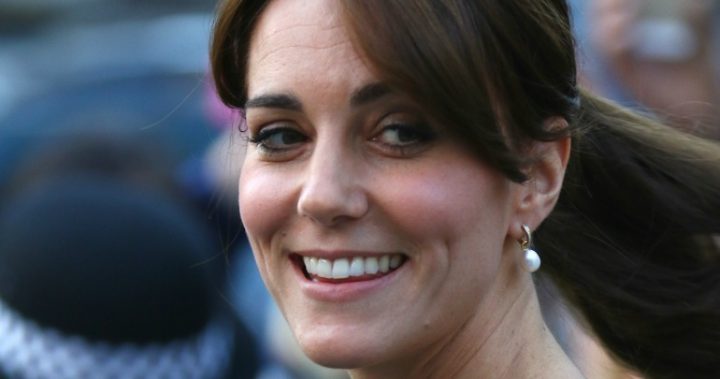 The Duchess of Cambridge has stepped out in London to spend time with an excited group of youngsters and chatted about her own growing children at the same time.
Kate was at the Natural History Museum for the afternoon where she sat down for a tea party with some of the children and told them all about George and Charlotte's favourite toys.
The group were doing a spot of painting and crafting inspired by dinosaurs when the conversation turned to her little ones.
Ten-year-old Eduarda was very excited to have spent time with Kate and said she told them George and Charlotte were very different.
Ad. Article continues below.
"She said George likes the T Rex because he is the biggest and the loudest," Eduarda told reporters afterwards.
Her friend Amani added: "She was asking us if we knew the story of Curious George [a monkey in a children's book] and how he climbed up on the diplodocus. Everyone did.
"We asked her about her home lifestyle and her children. She said that Charlotte is very chatty and likes doing play dates with George. George is interested in dinosaurs and volcanoes."
Kate looked absolutely stunning for the occasion, with a simple print dress, grey heels and her hair left down.
Ad. Article continues below.
She's known for her ease around the public and seems to be beloved by all the children she meets, with the museum's director Sir Michael Dixon saying she had no trouble keeping the big group entertained.
He said Kate had previously had private visits to the museum with her children and told him: "George would have loved to come today."
"She remarked on the fact that as her children get older she is going to have to mug up on the names of the dinosaurs," he said.
"I said 'Don't worry, the children will make you do that.'
Ad. Article continues below.
"She is actually very knowledgeable on the natural world and passionate about oceans. She is a keen scuba diver. She is very, very keen to engage more with the museum and its collections.
"She has been behind the scenes on a number of occasions and talked to some of our researchers and seen quite a lot of our collection areas."
The royals are expected to make a number of public appearances in the lead up to Christmas before they take some time away from the public eye to spend time with their family.
Are you a fan of Kate's look? Would you like the royals to come back to Australia for a visit soon?