Duchess of Cambridge channels '50s in stunning tweed dress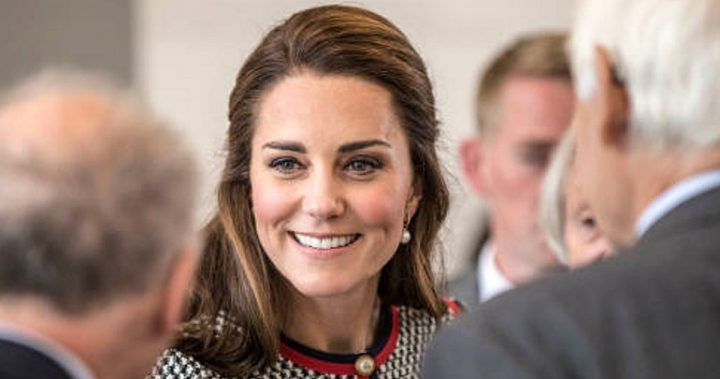 The Duchess of Cambridge has shown off her impeccable style once again on a royal day out in London.
Kate attended the official opening of a new wing at the V&A Museum and donned one of her most ladylike looks yet.
The stylish royal wore a A$3027 Gucci tweed dress with black leather heels and a striking red purse.
While much of England has been sweltering (by their standards) through 32C heat, Kate wasn't fussed by her tweed, which is usually worn when the weather is a bit cooler.
Ad. Article continues below.
She appeared happy and relaxed throughout the day, chatting and laughing with her fellow guests and keenly taking in the museum's display.
As an art history student, Kate as always been open about her love of art and has been praised for her beautiful photos of her children that have been shared by the Palace over the years.
Ad. Article continues below.
It's not just art the Duchess loves though.
Earlier, preview clips were released of a new BBC documentary on tennis and as an avid sports fan, the royal was more than happy to participate.
In the incredibly candid interview, Kate revealed that she was banned from watching the 2013 Wimbledon final from the Royal box as she was heavily pregnant with George at the time.
She said she begged her doctor to let her attend the match between Andy Murray and Novak Djokovic, but was told "definitely not".
Ad. Article continues below.
"I was very heavily pregnant. I wrote to him [Murray] afterwards saying sorry for not being there," she says in a preview of the documentary.
Later she revealed her family's most embarrassing tennis moments, laughing good-naturedly as she outed her parents to the world.
"I have watched Wimbledon, that was very much part of my growing up," she said.
"Roger [Federer] is my mother's heartthrob. I don't think she will mind me saying that! I think he probably knows that too."
She added that she was once mortified when her father accidentally confused player Tim Henman with another tennis star.
Ad. Article continues below.
"My father is not going to appreciate this but we were walking past Tim Henman and had just seen Sampras play," she revealed.
"My dad said 'Hi Pete'. I was mortified."
Looks like even the royals are embarrassed by their parents sometimes!
Are you a fan of Kate's style here? Do you like watching the tennis every year?