Duchess of Cambridge and Camila cop criticism for their Remembrance Day outfits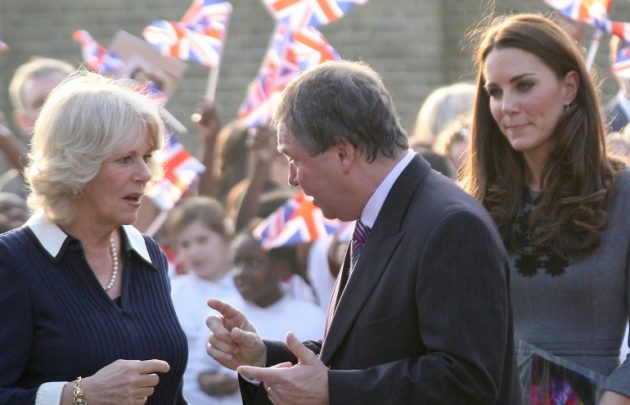 The Royal Family came out in force this Remembrance Day to attend a service honouring our fallen veterans, but much of the focus ended up being on the Duchess of Cambridge and Duchess of Cornwall's outfits instead.
Queen Elizabeth, Prince Philip, Prince Charles, Princes William and Harry, and Sophie, Countess of Wessex all joined Catherine and Camila at the service where they took part in the ceremony and laid wreaths in honour of those who died.
It is rare for all the royals to attend an event together, but instead of focussing on the sombre meaning of the day many turned their attention to Catherine, Sophie and Camila's outfits and blasted them for looking "shocking" and "bizarre".
All three women wore black for the occasion and decorated their coats with red poppies. Catherine paired her's with a wide-brimmed black hat complete with a velvet ribbon, while Camila silk and velvet piece that rested to one side.
Ad. Article continues below.
Sophie joined Catherine and Camila on a balcony where they were all photographed together. She chose a slightly fancier velvet hat for the occasion, pairing it with a simple black dress.
It didn't take long for the comments to start rolling in with many saying they looked like they were straight out of the early 20th century.
"Oh dear, is it faith, hope and charity or three craws sat upon a wa'?" asked one.
"They all look like suffragettes, is this 2016 or 1916?" said another.
Ad. Article continues below.
Some took particular issue with Catherine's hat.
"Oh dear. When even Camilla looks better than you…" one commented.
While people are often interested in what the royals are wearing, some have said they're surprised people chose to ridicule them on such an important day.
Others have said that as royals they are 'fair game' any day of the year.
What do you think about this kind of behaviour? Do people need to learn to focus on what's important instead of taking others down? Or are they just having a bit of fun?