Duchess Catherine tells athletes about Prince George's favourite sport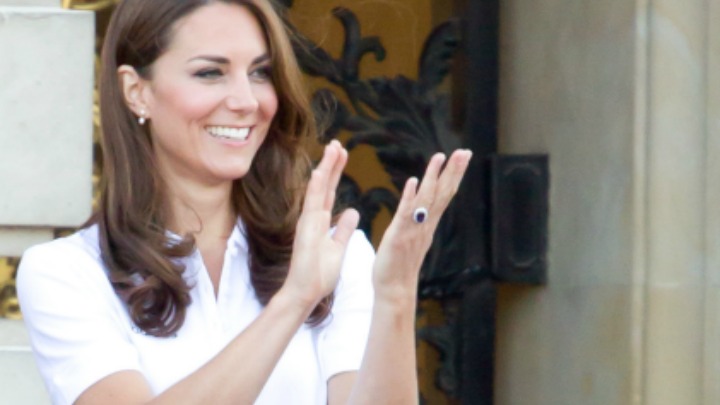 The royal family welcomed British Olympic and Paralympic athletes with a reception at Buckingham Palace earlier this week.
But they opened more than their doors.
The royals hugged, laughed and shared stories as they greeted the athletes.
Duchess Catherine told the athletes about our children, revealing Prince George's favourite sport.
She told equestrian triple gold medalist Natasha Baker that the three-year-old prince loved fencing.
"George is fascinated by fencing, but I think that's because of the face shields," Kate said. 
"Charlotte would have loved to be here but she'd be running riot!"
Ad. Article continues below.
Baker told People that the Duchess spoke to her of Princess Charlotte's love of horses.
"I asked her how the children were, and she said Charlotte is really enjoying her riding — which is great to hear," said Baker.
"I said we may see her here on a line-up in 20 years time. She emphasized that Charlotte has this passion about horses and although she doesn't echo it, she'll do her best to champion and encourage it."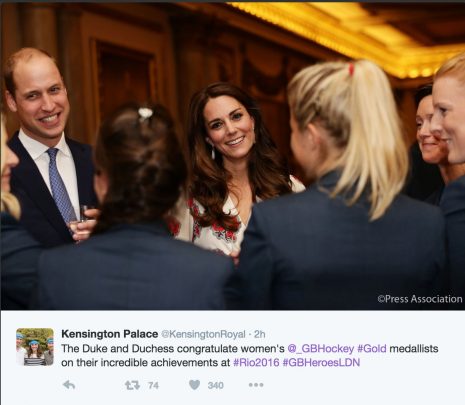 The Queen however is a big lover of horses and still rides at age 90.
Ad. Article continues below.
She had a long chat with show jumping gold medallist Nick Skelton.
"The Queen was asking about [my horse] Big Star, and we were talking about her horse Dartmouth," he said. 
"You don't need to give the Queen any advice, she's very knowledgable about all equestrian sports. She can tell me a thing or two!"
As you would expect, Prince Harry was a crowd favourite, hugging athletes and making them laugh.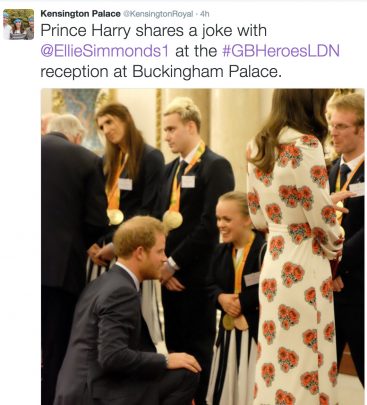 Ad. Article continues below.
Swimming gold medallist Ellie Simonds was surprised to get a big hug from Prince Harry.
 "I must have mentioned to someone I was really looking forward to meeting him and he just hugged me!" she said.
"The duchess was telling me how George likes swimming and Charlotte loves horses."
He also made the women's hockey team laugh, impersonating goalkeeper Maddie Hinch's goalkeeping skills.
"Prince Harry described me as a crab and was impersonating me!" she said. 
Ad. Article continues below.
"He'd definitely fit into our team and in the locker room!"
Her team mate Alex Danson said both Duchess Catherine and Prince William told her they played hockey at university.
"[Kate] said George has picked up a polo stick and she's trying to show him to use it as a hockey stick," she said.
What do you think of the royal's reception for the athletes? Do you think the younger royals are down-to-earth?