Drugs versus Bombers: who committed the worse crime?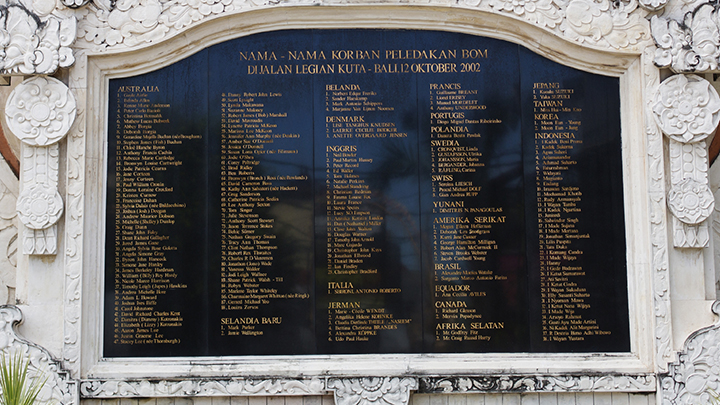 "I don't believe it is fair the Bali Boys got shot when the Bali bombers were released. However, if you are not an international drug lord then your chances of being executed swing a lot more in your favour…"
This was a sentiment on my Facebook wall this morning; a fair sentiment that many Australians might attest to. And when we look below the surface of the needless deaths of our two comrades Andrew Chan and Myuran Sukumaran, the incredible miscorrelation of punishment for those who we would consider critical facilitators and enablers of the Bali Bombings (that killed 202 people) versus our own drug traffickers seems clear. Indonesia has allowed sentence reduction and even released people that we would have considered much greater contributors to the death and destruction of people in and out of Indonesia.
Chan and Sukumaran have never denied their wrongdoing. In fact, even our own Prime Minister has said that they have been fully rehabilitated by the prison system they have lived in for 10 years. Now they are gone and the fight is over. But the raw reality of the case is not. These people were allowed to die when people who could be seen as the ringleaders of terrorism, that are potentially funded by these drug trafficking activities worldwide, have been released and charges dropped.
"They were examples of the hope and transformation that can come about through reflection, rehabilitation and remorse. Their deaths at this time are senseless," said Julie Bishop this morning.
88 Australians died in Bali in 2002. Three Indonesians were put to their death in 2008 for their involvement in the bombing at the Sari nightclub. Imam Samudra, Amrozi Nurhasyim and Huda bin Abdul Haq were executed by firing squad – the Australian Government did not object.
Ad. Article continues below.
But there were others involved, who are considered to be kingpins in the Bali Bombings who have not seen the punishment that many see as crucial, fulfilled.
The leader of Jemaah Islamiah, the group who took responsibility for the Bombings, Abu Bakar Bashir, was declared guilty of conspiracy over the 2002 bombings. He was sentenced to 30 months in prison, but was later acquitted on appeal and released in 2006, rejoining his terrorist ways. The international outrage at Indonesia's failure to punish this ringleader was deplorable. He is currently serving 15 years in prison after being convicted in 2011 of supporting a jihadi training camp.
Another player in the bombing, Umar Patek, named "The Demolition Man" for whom the US offered a $1M reward for the capture of, was caught in Pakistan in 2011. When captured and prosecuted they did not ask for the death penalty and he was found guilty of murder and bomb-making in 2012, being sentenced to 20 years in prison in Indonesia. Patek had confessed to playing a key role in the 2002 Bali bombings as well as a series of bombings on Christmas Eve in 2000.
And two others walked free when anti-terror laws were contested and they were unable to be held after it was declared that anti-terrorism laws brought in after the bombing could not be applied retrospectively.
Idris admitted involvement, admitting he detonating a bomb, was allowed to walk away from charges, as was Masykur Abdul Kadir, sentenced to 15 years who had his sentence overturned.
It appears the penalty for being below the food chain of the actual terrorists, organising the carriage of the drugs that fund their operations is the crime being targeted by Indonesia, not the criminals at the top who cause the drug rings to operate in the first place.
Share your thoughts today. Who performed a worse crime: the drug traffickers or the terrorism leaders they were likely funding?