'Driving Home for Christmas' singer Chris Rea collapses on stage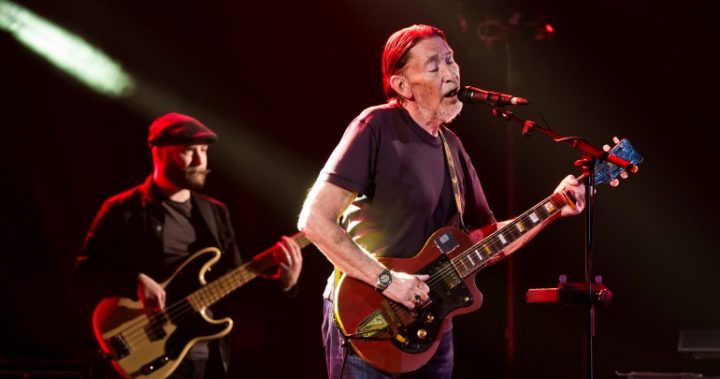 Legendary 'Driving Home for Christmas' singer, Chris Rea has collapsed on stage while performing hits from his new album on his European tour.
The 66-year-old singer had been performing on stage for around 45 minutes when the incident took place.
Rea is known for his distinctive gravely singing style and expert slide guitar skills. The singer is recognised throughout the world for his songs, 'Fool (If You Think It's Over)', 'I Can Hear Your Heartbeat', 'Stainsby Girls', 'On the Beach', 'Josephine' and many more.
Darren Fewins, a concert-goer at the event told The Daily Mail how the singer began to sway on stage.
"He was standing by the microphone and he had the guitar in his hand and he kept shaking his left hand as if there was something not quite right with it. He walked forward to the microphone and he was trying to grab the microphone with his left hand, and it was swinging from side-to-side."
Ad. Article continues below.
"I thought at first there was something wrong with it and he was trying to keep it steady. He then took three or four steps backwards.He was on his back for about two minutes before they brought the curtain down and then that was it." he added.
Mr Fewins was shocked because Rea had looked so healthy and vibrant just minutes before.
"He looked fit, he looked well. He was changing guitars every song, and he just looked like someone who I have seen several times and was playing the best I have ever seen," he said.
Rea has suffered from a number of serious health issues over the last few years including peritonitis, pancreatic cancer, and diabetes. The Daily Mail reports the singer has to inject insulin seven times a day.
Ad. Article continues below.
On his Live On The Road To Hell tour last year Rea suffered a stroke which left him with slurred speech and reduced motor functionality in his arms and fingers. This experience prompted the singer to quit smoking and focus on his health so he could perform another concert.
This year he released his new album Road Songs For Lovers and has been touring around Europe since October.
The star is currently in the hospital in a stable condition. His performance in Brighton, UK has been cancelled and there has been no word on whether he will finish the rest of his tour.
A statement from the Brighton Centre, where Rea was due to perform, said: "Unfortunately Chris Rea has had to cancel tonight's show at Brighton Centre due to illness. A decision about the outstanding date on his UK tour on 12th December at Bournemouth International Centre will be made in the near future."
Are you a fan of Chris Rea's music? Are there any messages of support you would like to send the singer?