Drastic measure stops new gun owners in their tracks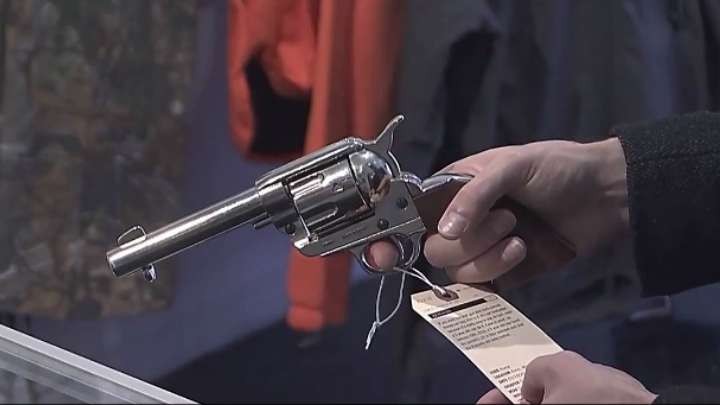 A gun-control organisation set up a fake gun shop in the heart of New York City, hanging signs in the windows to draw in first-time gun buyers.
The customers who came into the shop were typically looking for a gun for "protection" or "safety" and hidden cameras captured their reactions as they were given a lesson on the history of the gun in their hand.
The very believable salesman listens to his customer's needs, pulls out a gun and gives the sales pitch: "it's easy to use, 22 calibre, it's our best seller…
"It's also a gun that a five-year-old found in his parents' bedroom and went down and shot his nine-month-old baby brother with it".
The reactions of the customers, needless to say, are fascinating.
Ad. Article continues below.
Each gun comes with a tag detailing its use in accidental deaths, mass murders and suicides. Statistics have shown that owning a gun increases the risk of all three occurring.
The shop also has an "online store" which targets first-time buyers.
This viral video that has been viewed 11 million times and shared more than 250,000 and suggests that education is the key to bringing America's gun problem under control.
There are scores of comments on the post from both sides of the debate.
One Facebook user says, "How about all the guns with tags on them where the history was something like:
'This is a gun that could have prevented someone from killing multiple soldiers on their base, but it was locked up because of the REAL gun nuts who think gun laws protect you from criminals with guns.'"
Ad. Article continues below.
Another says, "Some of the comments on this post are a terribly sad reflection of the wilful, even hateful ignorance this country has about guns. How you could watch this and not feel guilt cut you to your bones about the damage your views are doing is beyond me. It's inhuman. There is NO logical argument for the gun laws you're defending. You just LIKE guns. That's it. It's pathetic."
Watch the video below and share your thoughts.
This organization against guns opened a gun store in NYC to make a point. What's your take on it?

Posted by New Yorkers on Wednesday, March 18, 2015
Do you think better education on the dangers of owning a firearm would bring America's gun crisis under control?