Donald Trumps turns wedding crasher on working holiday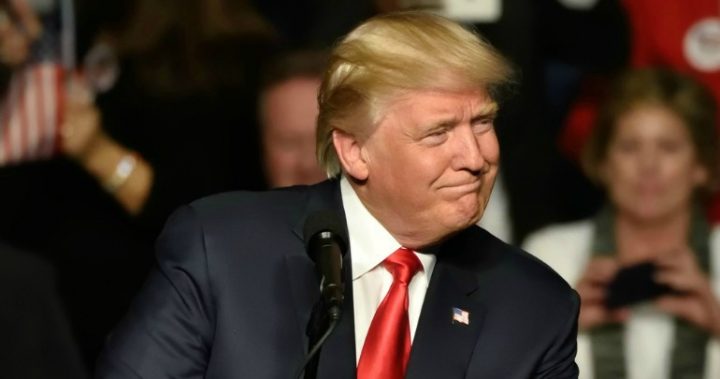 United States President Donald Trump is taking a break from the White House, but according to him it's not a holiday.
He took off for a 17-day trip to his private golf club in central New Jersey on Friday, joined by daughter Ivanka and son-in-law Jared Kushner and their children.
He's already taken on the role of Granddad, spotted accompanying grandkids Arabella and Joseph off the plane.
Trump has taken to social media to say he's busy working, taking calls and planning things. It has included being briefed of the news of the loss of US military lives due to an aircraft crash off the coast of Australia.
Ad. Article continues below.
Working in Bedminster, N.J., as long planned construction is being done at the White House. This is not a vacation – meetings and calls!

— Donald J. Trump (@realDonaldTrump) August 5, 2017
While he's away from the White House there are renovations underway, including replacement of an old heating and cooling system.
Just completed call with President Moon of South Korea. Very happy and impressed with 15-0 United Nations vote on North Korea sanctions.

— Donald J. Trump (@realDonaldTrump) August 7, 2017
Ad. Article continues below.
He's also make time for social visits, stopping by to ask wedding guests if they were enjoying themselves at the golf club.
"Everyone having a good time?" A vacationing Pres. Trump greets wedding guests at his New Jersey golf club https://t.co/0Wh1NHRYe4 pic.twitter.com/sHLDTBBJjz

— ABC News (@ABC) August 6, 2017
One would expect a trip to a golf club would include a round of two, and he's managed that too, on this working holiday.
However, people were quick to remind him of the times he criticised the former president for playing golf.
Ad. Article continues below.
@BarackObama played golf yesterday. Now he heads to a 10 day vacation in Martha's Vineyard. Nice work ethic.

— Donald J. Trump (@realDonaldTrump) August 15, 2011
Can you believe that,with all of the problems and difficulties facing the U.S., President Obama spent the day playing golf.Worse than Carter

— Donald J. Trump (@realDonaldTrump) October 14, 2014
Do you think it is fair to criticise anyone for taking a holiday, president or not?