Donald Trump's hit a milestone no president ever wants to reach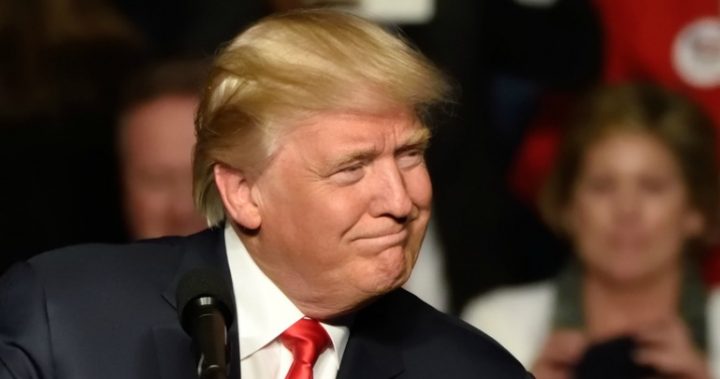 It's official – many American's don't like their President. He's been given the lowest six-month approval rate of all presidents dating back 70 years.
The ABC News poll by Langer Research Associates asked several questions, from Russia's influence to America's progress since he took on the role of President, and his competence. Of the results 55 per cent don't think Trump has made any progress towards his goals and around 50 per cent say the US's world leadership has grown weaker.
His approval rating was only 36 per cent. That's a drop of six points in comparison to a similar poll taken after he had been in the top job for 100 days. The only other president who got this low was Gerald Ford, polling at 39 per cent in 1975. 
If you ask the man himself, though, he gives the thumbs up to his career, and thumbs down to the polling process.
Ad. Article continues below.
Trump took to Twitter to respond to the poll results before announcing he was on his way back to Washington DC with much to be accomplished this week on trade, the military and security.
The ABC/Washington Post Poll, even though almost 40% is not bad at this time, was just about the most inaccurate poll around election time!

— Donald J. Trump (@realDonaldTrump) July 16, 2017
The push against Trump has been very vocal and there's been plenty of campaigns against him. Dump Sexist Trump is just one of them, with even the Britain's getting on the bandwagon with a Show Your Rump to Trump campaign that resulted in Trump calling off a planned visit to the country.
Read more: Let's Talk: Is Donald Trump America's worst president? 
Ad. Article continues below.
He's also been mocked on many a public stage, which hasn't always worked out for some people.
Kathy Griffin, for one, apologised for her 'comedy skit' that included what resembled a beheaded Donald Trump. She later said the incident ruined her career. 
The president hasn't done himself any favours either, with a video pretending to attack a reporter and comments to females that have been considered sleazy and inappropriate. 
Do you believe in polls or are they just a waste of time?