Donald Trump slams move for a recount as a 'scam'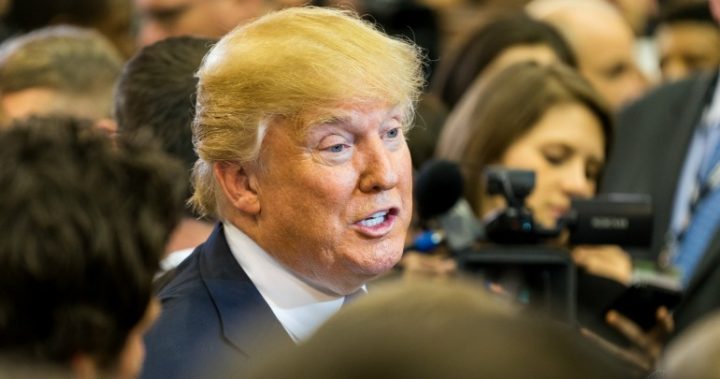 Ever since the United State election result was delivered there has been discontent. It followed the disbelief that outside contender Donald Trump actually secured victory.
While there's little point arguing the voting system used in the US that delivered such an outcome, there is an increasing movement to recount the votes cast in the presidential election in three key states — Wisconsin, Pennsylvania and Michigan.
In Wisconsin, Trump beat Hillary Clinton by 27,257 votes; in Pennsylvania by 70,010 votes; and in Michigan by 10,704 votes. Slim margins indeed.
Some might say it's a somewhat ironic turn of events, given that in the days leading up to the election the New York billionaire repeatedly called the election "rigged" and was none too clear on whether he would accept the outcome of the result, especially if it had gone the other way.
However, Donald Trump has been quick to dismiss the calls for a recount and says they are nothing more than "a scam" to raise funds for Green Party candidate Jill Stein.
Ad. Article continues below.
The Green Party scam to fill up their coffers by asking for impossible recounts is now being joined by the badly defeated & demoralized Dems

— Donald J. Trump (@realDonaldTrump) November 27, 2016
"The people have spoken and the election is over," Trump says. "We must accept this result and look to the future."
It should be noted that Stein drew just 1 per cent of the vote nationally, but that's not going to prevent her from raising the millions required to fund the recount.
Hillary Clinton's allies and experts in electronic voting have also backed the move to have the votes recounted in those states in the hope it will verify just how the president-elect managed to race ahead.
Ad. Article continues below.
Clinton herself has not provided any comment on the matter.
According to the Inquisitr, Clinton supporters are convinced there was an interference during the elections after cyber security experts accused Russia of hacking emails from the Democratic National Committee, which were then published by WikiLeaks.
However, there is no concrete evidence to support those claims.
The Elections Commission acknowledged that it had received the paperwork from Stein and says it is "preparing to move forward with a statewide recount of votes for the President of the United States, as requested".
The recount would need to deliver victory for Clinton in all three states for the presidential result to be changed. The process must be completed by December 13.
What do you think of the challenge to recount votes following the US election? Share your thoughts on this issue with us.