Donald Trump pledges to 'reject bigotry and hatred'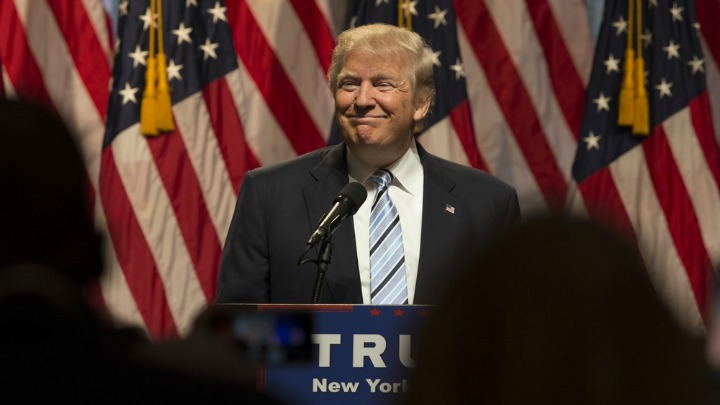 He's called for bans on Muslim immigration and promised to build a wall to keep out the Mexicans, but now Donald Trump is attempting to reach out to those less supportive of his views.
In a series of Facebook posts, the controversial presidential candidate says he will "reject bigotry and hatred and oppression" and "speak out against the oppression of women, gays and people of different beliefs".
Vowing to fight to "ensure that every American is treated equally", Trump directly appealed to African-American, female and gay voters — all of whom he has struggled to resonate with during his campaign.
But it wasn't all pleasantries from Trump.
Ad. Article continues below.
He also used the series of Facebook posts to attack his rival Hillary Clinton, claiming she doesn't have the strength or stamina to "defeat crime and Radical Islamic Terrorism".
The Republican nominee also accused Clinton of accepting millions of dollars in donations from countries "where being gay is an offense punishable by prison or death".
What does Hillary Clinton have to say about the latest comments from Donald Trump?
Ad. Article continues below.
Just hours before Trump's first Facebook post, she posted a link on Twitter to one of his videos taking a dig at his immigration policy.
"Trump's idea for a new immigration test: 'Those who… support bigotry and hatred will not be admitted'.  Awkward," Clinton wrote.
Trump's Facebook posts come as the latest polling results show him trailing behind Clinton by an average of 6.2 per cent.
It's been a difficult couple of weeks for the Republican nominee, who landed himself in hot water for claiming Barack Obama started ISIS and attacking the family of a slain Muslim soldier.
What do you think? Has Donald Trump has changed his tune? Will he be the next President of the United States?