Donald Trump Jr's emails could be key to dad's undoing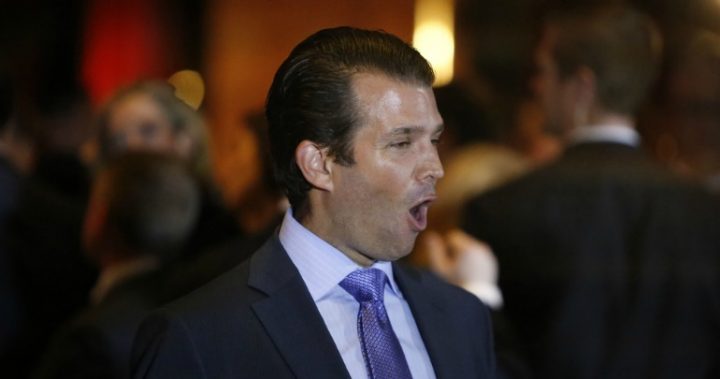 US President Donald Trump has thrown support behind his eldest son despite a released email chain which could provide damning evidence for investigators probing into whether there was collusion with Russia during the presidential campaign. 
"My son is a high-quality person and I applaud his transparency," Trump said in a brief statement which was read out to reporters by White House spokeswoman Sarah Sanders.
Donald Trump Jr released the email chain by posting it on Twitter which showed he enthusiastically agreed to meet with a Russian government lawyer to get incriminating information on Hillary Clinton. 
Clinton was Trump Snr's Democratic rival at the time and had previously had support from Moscow.
An email from publicist Rob Goldstone, an intermediary who helped arrange the meeting with the lawyer, to Trump Jr on June 3, 2016 read: "The Crown prosecutor of Russia … offered to provide the Trump campaign with some official documents and information that would incriminate Hillary and her dealings with Russia and would be very useful to your father."
Ad. Article continues below.
Trump Jr responded with, "If it's what you say I love it."
Trump's son-in-law Jared Kushner and former campaign manager Paul Manafort were also included in parts of the email thread to set up the meeting.
The emails could be the smoking gun for investigators trying to determine whether or not there was collusion between the Kremlin and Trump's campaign. 
While collusion in itself is not a crime, if it is determined that Trump Jr conspired or aided and abetted a criminal action, it could be ground for criminal charges.
ABC News reported that several lawyers have said the meeting may have broken federal election laws which bans campaigns from accepting gifts or things of value from foreign nationals.
Trump Jr has hired a lawyer while Moscow continues to deny interference and Trump Snr maintains his campaign did not collude with Russia. 
Do you think Trump Jr has broken the law?