Donald Trump: you're fired.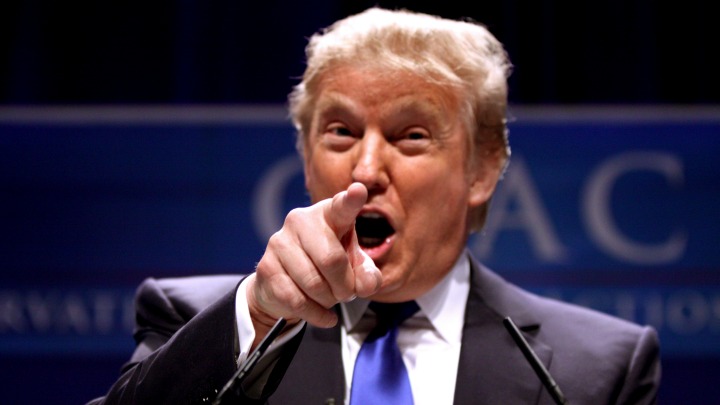 Donald Trump has always been something of a loose cannon – and loose hairdo – and you might think that since mid-June and his announcement to run for US President that he might cool down and become more careful with his words.
But no. Really no. Amongst his targets have been musicians, countries, and, well, fashion.
Trump vs comprehension of rock and roll song lyrics
First-up he offended veteran rocker Neil Young with his choice of campaign song, Young's anthemic Rockin' In The Free World. This choice of song, like Ronald Reagan's use of Bruce Springsteen's Born in the USA, is ironic, given that the song is critical of the USA.
Trump vs international diplomacy
Ad. Article continues below.
In recent days, Trump has been more than casual with his words criticising Mexico.
We MUST have strong borders and stop illegal immigration. Without that we do not have a country. Also, Mexico is killing U.S. on trade. WIN!

— Donald J. Trump (@realDonaldTrump) June 30, 2015
I love the Mexican people, but Mexico is not our friend. They're killing us at the border and they're killing us on jobs and trade. FIGHT! — Donald J. Trump (@realDonaldTrump) June 30, 2015
Ad. Article continues below.
These remarks have seen him hear his own catchphrase "You're fired" from NBC, losing his role as judge on The Apprentice. His Mexico gaffes have also seen Univision pull out of a deal to broadcast Trump's co-owned Miss Universe Organisation pageants.
On top of that Mexico announced that it would not enter the Miss Universe Pageant this year, and one of the hosts of the pageant, Cheryl Burke, withdrew from the show. Trump is now suing Univision for US$500 million.
Hilary Clinton, one of his rivals in the Presidential race, said this:
Ad. Article continues below.
… a recent entry into the Republican presidential campaign said some very inflammatory things about Mexicans. Everybody should stand up and say that's not acceptable. You don't talk like that on talk radio. You don't talk like that on the kind of political campaigns.
Trump vs science
Another of Trump's targets over the years has been science. Here's a couple of examples, on the topics of climate change, and vaccination:
The concept of global warming was created by and for the Chinese in order to make U.S. manufacturing non-competitive.

— Donald J. Trump (@realDonaldTrump) November 6, 2012
Ad. Article continues below.
I'm not against vaccinations for your children, I'm against them in 1 massive dose.Spread them out over a period of time & autism will drop! — Donald J. Trump (@realDonaldTrump) September 4, 2014
Trump vs fashion
Ad. Article continues below.
Finally, and I know this is all subjective, there is his ongoing war against fashion. Primarily in the area of hair. In the future his hair might be nominated as one of the Wonders of the Built World of the 21st Century, but for now, well, I think it's fair to say that his hair just isn't right.
The Incredible Metamorphosis of Donald Trump's Hair #RejectedCarnivalSideshows pic.twitter.com/TuGnjS9rI6

— Deloris I. Peloquin (@Kayte1977) June 21, 2015
  To be fair, he has stated that if elected as President he will change his hair. He isn't changing it so as to look better, or less comical. He said he would change it because it takes to long to do.
I wouldn't have time, because if I were in the White House, I'd be working my ass off.
Ad. Article continues below.
 By the way, if you are a fan of his hair, here's how you can give yourself the Trump treatment:  
The Secret to Donald Trump's Hair http://t.co/2vgEvtaiaP (@ekelias ist Schuld!) — Dennis Morhardt (@gglnx) June 21, 2015
Can he win?
Ad. Article continues below.
Just how well is Trump doing in his Presidential campaign?
Donald Trump's in the top tier of the Republican field for a second consecutive week in our polling," Dean Debnam, President of Public Policy Polling, said in a statement. "Time will tell how long the Trump Bump lasts, but it's at least two weeks at this point.
Time will tell, indeed. The election for the 58th President of the United States will be held on 8 November 2016, a date that's a long way away on the calendar, and even further away in the life of a campaign.
I get the impression that Trump's going to make more than a few gaffes between now and then, don't you?
What do you think of Trump as a potential US President – do you think he will win? Even more to the point, what do you think of him as a human? Do you look at his hairstyle with envy?
Photo credit: Gage Skidmore