Donald Trump embarrasses Australia's Jennifer Hawkins on stage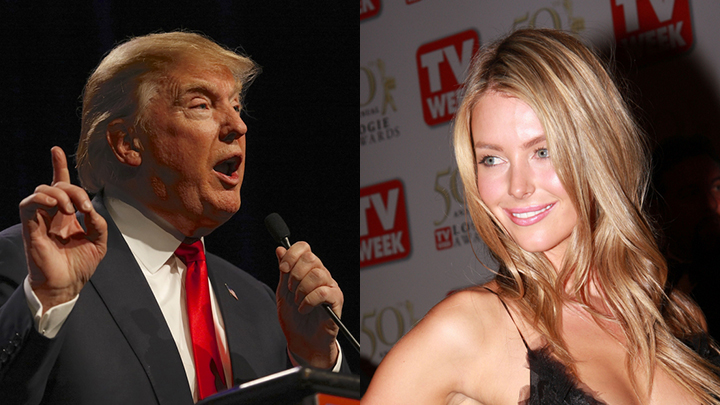 Donald Trump's attitude toward women has proved a major sticking point in his presidential campaign. Now a newly-uncovered video featuring Australia's Jennifer Hawkins has raised criticism down under.
The video, filmed during a Trump appearance in Sydney in 2011, shows the future presidential candidate calling the former Miss Universe-turned-media-personality on stage for what appear to be embarrassing, sexually-charged remarks.
In a speech the BBC described as "humiliating", Trump publicly accused Hawkins of rejection when she declined to introduce him for a recent public appearance.
"She's a big star here, and I helped her make it ― I own the Miss Universe pageant. And I heard that she wouldn't introduce me."
Hawkins insisted this was due to a simple misunderstanding – but the conversation soon spiralled into uncomfortable territory.
Ad. Article continues below.
Trump explained he felt insulted by Hawkins' refusal. "I thought she dissed me," he told the crowd.
Hawkins defended the alleged club as "a miscommunication".
"Of course I wanted to come here," she says. "I feel really bad."
Trump responds: "I was actually going to get up and tell you that Jennifer is a beautiful girl on the outside, but she's not very bright."
Ad. Article continues below.
"That wouldn't have been true, but I would have said it anyway."
The discussion soon spiralled into sexual innuendo.
"You know what? She came tonight, she came ― came, she came, she came."
In response to audience laughter, he said: "See, so they have the same filthy minds in Australia."
Trump then pulled Hawkins toward him for an attempted kiss on the lips. Hawkins reflexively put her arm up and turned away, diverting the kiss to her cheek.
Ad. Article continues below.
"Can I sit down now?"
When asked about the incident at yesterday's Victoria Derby Day, Hawkins told News Corp that Trump and his family "have always been respectful to me".
"So as much as everyone wants me to bag him, it's not in my nature. I don't like drama, I don't like to get into politics publicly, so that's why I've kind of, not avoided it, just haven't openly been out there."
What do you think of the video? Are Trump's words an actions acceptable "dirty" humour, or going too far?