Dolly Parton's touching story about her late father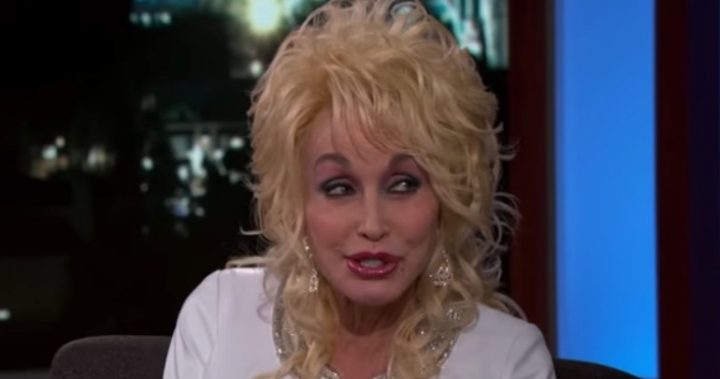 As if you didn't need another reason to love Dolly Parton!
The 70-year-old has appeared on Jimmy Kimmel Live! in the US and had the audience in fits of laughter and tears.
If you missed it, Dolly was every bit her usual charming self.
But it was a touching moment that really hit home with the audience.
When Kimmel brought up the bronze statue of the singer in her hometown in Tennessee, Dolly shared a heartwarming tale about her late father Robert Lee Parton.
Ad. Article continues below.
"After my dad died, one of my brothers told me daddy used to put a big bucket, a big oil drum, of soapy water and a broom in the back of his truck and late at night he'd go down to the statue and scrub all the pigeon poop off it," she said.
"It touched me. I cried my eyes out.
"My daddy's gone but the pigeons are still there – I'm not sure who is doing that now."
If you loved that moment, there were plenty more memorable Dolly moments throughout the interview.
Ad. Article continues below.
When Kimmel announced to the excited audience that Dolly would be receiving the Willie Nelson Lifetime Achievement Award at the CMAs in November, the singer shared a hilarious story about her friend Willie Nelson.
She spoke about meeting Willie in 1964, and how he had "no beard, short hair" and "looked like a school teacher".
"He's such a wonderful writer and a wonderful guy, but he's so hard to sing with," Dolly said.
"His phrasing is so different, you can't keep up with him.
"We did a duet of a song I wrote called Here to the Moon and Back and he put his vocal down first, sent it to me to go in the studio in Nashville and do my part and trying to sing with him – I mean I was everywhere.
Ad. Article continues below.
"I called him up and I said, Willie send me a sack of that grass you smokin' – I can't follow you, I gotta get where you are."

And then, Dolly took to the microphone and blew the audience away performing the song Outside Your Door from her first Number 1 country album in 25 years – Pure & Simple.

There's no denying she's still got it!
What do you think of Dolly's appearance on Jimmy Kimmel? Are you a big fan?