Dog nearly dies after being coloured with purple human hair dye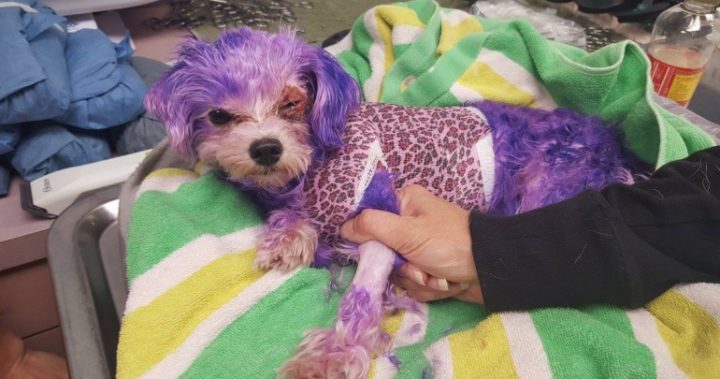 Animal owners, do NOT colour your pet's hair with dye intended for humans. That's the warning from the Pinellas County Animal Services shelter after treating white Maltese mix, Violet, who was left badly burned after her owner tried to give her a makeover using human hair dye.
The shelter shared graphic images of Violet on their Facebook page, showing her eyes swollen and skin burned and weeping from the toxic chemicals in the dye.
When she was first brought in, Violet's eyes "were swollen shut" and she was "limp and listless" with "obvious burns to her skin", the shelter said. It wasn't until after they had managed to gently wash most of the dye away that the vet saw the extent of the damage.
"We began the arduous process of shaving off her hair to really measure the damage – to our horror her skin began to slough off," the shelter said. Horrific pictures show Violet's badly burned skin exposed and weeping.
Ad. Article continues below.
"Chemicals in hair dye are TOXIC causing a wide array of external injury to your pet – possible burns, blindness and because an animal's first instinct is to lick, it can cause poisoning or internal burns. Just don't [use it]," the Facebook post reads.
Thankfully, Violet pushed through the pain and has now been adopted by a new owner, who promises to take proper care of her. The post has since been flooded with thousands of comments from angry pet owners and animal lovers.
"Poor, sweet innocent dog! Why on EARTH would someone think this was a good idea?!?!?" one woman wrote, while another added, "This is so wrong. Poor things. This is animal cruelty."
Others suggested the owner should face charges. "They're not bloody toys … someone needs to be prosecuted and barred from ever owning a pet again," one woman wrote.
Ad. Article continues below.
Pet grooming has become fashionable in recent years with owners opting to colour their dog's hair, dress them up in designer coats and trim their fur into artful designs. The trend has copped criticism from some, who say animals are not toys to be dressed up and paraded around for their owner's gratification.
For those who do want to dye their pet's hair though, there are specially made dyes for animals that don't contain any of the toxic chemicals in human hair dye.
Would you ever dye your pet's hair? Do you think there should be harsher laws against animal cruelty?