Does this deserve to be booed?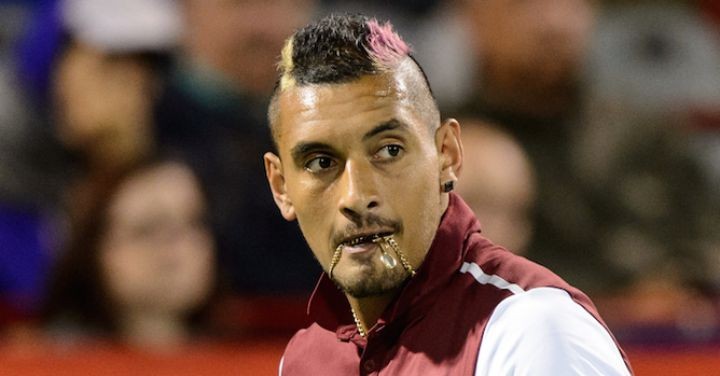 Resident tennis brat Nick Kyrgios was booed by the crowd as he walked onto the court in Montreal this morning, in response to a sexual slur made to Stanislas Wawrinka during their Rogers Cup match yesterday.
Kyrgios was caught by on-court microphones making derogatory comments about his Swiss opponent's girlfriend, 19-year-old Croatian tennis player Donna Vekic.
Referring to his Australian Davis Cup teammate, Kyrgios said, "[Thanasi] Kokkinakis banged your girlfriend. Sorry to tell you that mate".
Ad. Article continues below.
Nick Kyrgios issued an apology for the incident on Facebook and was fined $10,000 for the comment.
Following this morning's Montreal match against John Isner, which he lost 7-5 6-3,  Kyrgios said the matter was dealt with.
"Obviously I apologised in public and privately as well. I've been fined. So everything is sort of put to bed now. I thought we could move on from it".
Ad. Article continues below.
He said the furore was "tough" but not "the toughest thing that's happened".
"I got some sleep last night," he said.
Kyrgios might think the matter is dealt with, but the tennis community disagrees.
Australia Fed Cup Foundation president Jude Dalton told Channel 9's Today, "He's a professional tennis player and you just don't behave like that. He should be disqualified. He shouldn't be allowed to play the US Open or Davis Cup … He's so stupid because that's really detrimental to the game of tennis".
The response to Kyrgios' apology on Facebook was divided. Across more than 4000 comments, many were negative and laid into the player. But there were also those who called on the haters to remember that Kyrgios is a young man, possibly lacking good role models:
Ad. Article continues below.
"We should not put all the blame on Nick. He is only a young man, it is clear to see that he was brought up with no respect for anybody but himself! It's his parents that have let him down," wrote one commenter.
Following the booing of Adam Goodes by AFL supporters, it is interesting to observe this behaviour on the tennis court. Obviously race is not an issue here; it's genuinely a case of the audience disliking the player on the court – or his behaviour, at least. But does that make it okay?
Should we provide more support for young sportspeople to vent their anger in less destructive ways, or should we carry on booing until he gets the message?
Share your thoughts below.