Does Pauline Hanson know what Australians really want?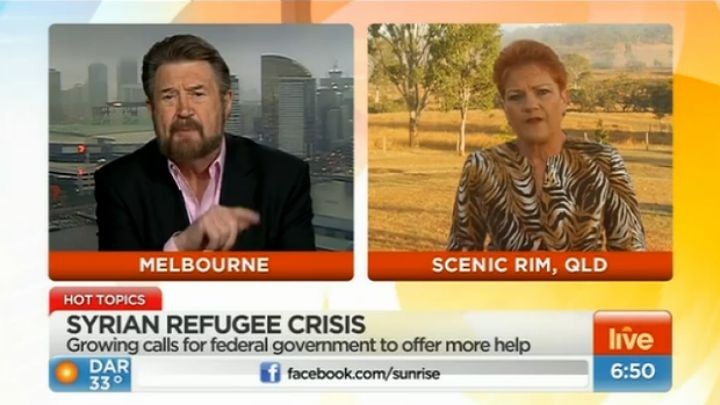 She's never been one to back away from her opinions, so Pauline Hanson's appearance on Sunrise this morning was bound to cause a stir. Pitted against shock jock Derryn Hinch, the former One Nation leader seemed anxious to get her message across.
Ms Hanson has always insisted she has the confidence of everyday Australians, many of whom hold views that may not be popular with the media or city-folk, and her continued presence in the political landscape proves that she has a certain level of support.
But her comments today have been widely criticised – by the Sunrise hosts, Mr Hinch and all over social media.
Ms Hanson had a list of examples she claimed proved that Australia should not take any Syrian refugees, who are mostly Muslim. She said she has travelled Queensland extensively and spoken to people about their fears and concerns.
Her examples included a story about refugees taking jobs in a meat works in Rockhampton, and that refugee children in high schools were abusing and making death threats to their teachers.
Ad. Article continues below.
"On a per capita basis we take in more refugees than any other country throughout the world," she said.
"If you want to have peace and harmony in this country you cannot keep increasing the Muslims, Islam, in Australia … we will have huge problems down the track. There are millions of Australians that are concerned about this, so go and speak to the Australian people because that's exactly what I've been doing.
"And I warn Tony Abbott, he will have a backlash if he takes a lot of these people in at the next election, so he better prepared for it. You better be prepared for what's going to happen in this country because a lot of people are going to suffer," Hanson said.
David Koch accused Ms Hanson of "cherry picking the bad facts" of a small minority of refugees in Australia to justify her stance. Meanwhile, Mr Hinch barely let Ms Hanson get a word in, as he exploded in anger and later said he wished he'd never appeared on the show.
This raises the question – why bring Ms Hanson on the show if you're not going to let her speak?
Ad. Article continues below.
To her credit, Pauline Hanson ploughed ahead, reiterating her list of examples and the fact that she has spoken to real Australia.
Do you think Pauline Hanson has a better idea of how real Australians feel about taking on more refugees than the policy makers and media? Share your thoughts.