Do you think we can come back from the political 'deficit of trust?'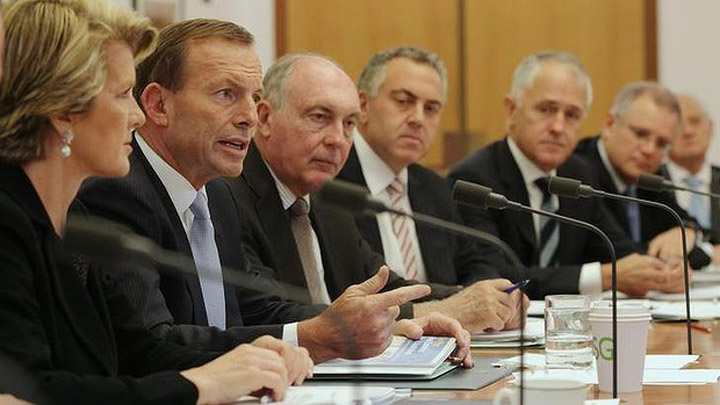 There's a crisis in the world of Australian politics right now. It has nothing to do with terrorism, asylum seekers or the economy. It has everything to do with trust, integrity and honesty. In the last week both the Prime Minister and the Leader of the Opposition have been questioned by the media on issues that are integral to the future of Australia, yet both have declined to answer. So today we want to know, do you think avoiding comment is smart, dumb or just plain wrong?
There are accusations around that Australian government officials paid a people-smuggling crew to turn back to Indonesia before entering Australian waters. When Prime Minister Tony Abbott was questioned on Sunday, he refused to confirm or deny the claim and instead went with his trademark avoidance phrase on asylum seeker issues, "There's really only one thing to say here and that is that we have stopped the board".
"That's good for Australia, it's good for Indonesia and it's particularly good for all of those who want to see a better world", he continued.
Just three days prior to this, Opposition Leader Bill Shorten refused to give comments about the royal commission into union corruption, of which he is being questioned about this week. He refused to say anything at all to the media and left it to his supporters to make comment. Frontbencher and fellow union official Richard Marles said, "There is absolutely nothing to hide here – far from that, there's an awful lot for Bill Shorten to feel proud about".
Both political leaders have chosen not to say anything, which in some cases is the best tactic – a past look at the Abbott gaffes is enough to suggest so – but when it's issues that question the integrity of an individual and a government, do we have a right to expect an answer?
Ad. Article continues below.
The issues for the two men are completely different but they do both question their integrity. As an Australian citizen, an Australian voter, I want to know the answers. I want to have a level of transparency and honesty from our leaders. But is this simply too much to ask for? Any brief history would suggest that it is too much to ask for. But it shouldn't be.
When integrity is questioned, it would be nice to also have honesty and transparency. The media sadly works against us in that manner, twisting and placing quotes in the wrong context. But when politicians go silent, it doesn't give us a very good sign. Are they guilty of wrongdoing and should their integrity actually be questioned? That's the first thing that runs through my mind when they decline to comment and give an honest answer on something that is this serious.
In 2012 Malcolm Turnbull called for honesty and said that the lack of political honesty had led the country into a "deficit of trust" and I fear this has not improved since he made these claims.
So tell us, do you think open, honest and high integrity politics is something that Australia can one day have? Or will we forever be in a 'deficit of trust' and is there no going back? Share your thoughts in the comments below…