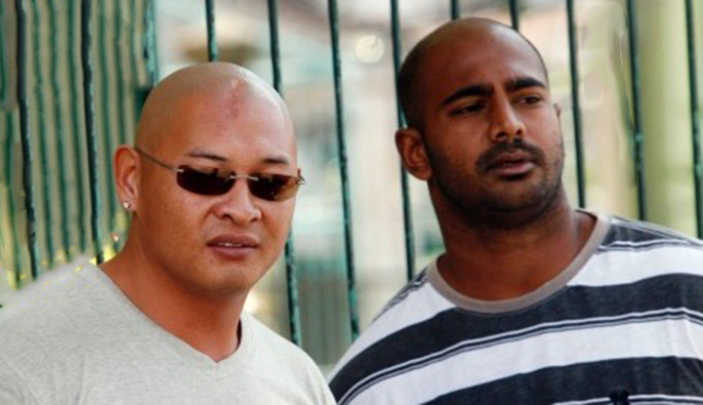 Andrew Chan and Myuran Sukumaran have controversially had their sentence of death by firing squad confirmed this week and it has raised the interest and concern of many Australians. For a long long time most adults have known that to traffic drugs into the southern Asian nations meant the death penalty. But when confronted with the brutal execution of fellow countrymen at gunpoint 10 years after they committed their crime, many seem horrified at the punishment. TV stars and famous people in Australia have banded together this week to produce a video pleading for mercy, called "I stand for mercy".  So today I have to ask how you feel… Do you stand for mercy for these two men?
My initial thoughts on the situation, when I didn't know a lot about it was quite harsh, I have to admit. My parents raised me with a very firm and unsympathetic view of drug trafficking. "If you ever ever carry drugs into one of these countries, expect to be put to death", I remember my mother telling me melodramatically at the young age of 12 or 13, probably about the time when Barlow and Chambers faced execution in Malaysia. And it wasn't just a one-time conversation. She kept up insight into the plight of drug traffickers any time the media made it relevant, ensuring I had a solid appreciation for international laws (even though I didn't even know what drugs were back then).
Many of you will remember the execution by hanging of Kevin Barlow and Brian Chambers back in 1986 for trafficking heroin in Malaysia. The media back then was up in arms about the merciless three year plight for clemency before they were put to death. This is the most memorable mercy-fight I ever saw in Southeast Asia. Still, they were hung as their sentence required. We all watched as Schapelle Corby set a national example of Indonesia's lack of sympathy for drug trafficking in 2004, but were astounded when she was released 10 years later. And even after watching Schapelle, surprisingly, just two years later these two, as leaders of the Bali Nine were caught doing the unthinkable, shifting heroin from Australia into Indonesia. Is it possible that anyone could be naive enough to think they won't be caught?
Ad. Article continues below.
But my harshness was met with empathy for them when I learned more and more about their situation. Yes, they have done the wrong thing, and they they are not debating that. But is 10 years too long to wait for a punishment for the death penalty without a thorough review of their situation, contribution and rehabilitation? These men did their crime in April 2005, and were sentenced to death in February 2006, less than 12 months later. They have challenged and fought for their freedom for nearly 10 years, exhausting every legal avenue including pleading with the President of Indonesia for clemency. Both men have contributed significantly to their prison environment, teaching other prisoners skills in reading, art, English and have had much empathy for their fellow inmates. By all of our own prisoner rehabilitation standards it sounds as though they are doing fairly well.
And yet they are likely to be pulled from their cells with 72 hours notice, blindfolded and shot by a firing squad. What an awful thought that any human being who made a significant error of judgement 10 years earlier and have made such a significant effort to recompense for their errors could have this happen to them.
The argument for mercy is rippling nationwide with their lawyers and our own Prime Minister both willing to argue that the men are reformed and deserving of mercy.
Despite it all, Indonesia's President Joko Widodo argues executions of drug offenders are needed to shock the nation out of its drugs crisis.
The pair's lawyers are preparing to file for another judicial review of their cases, but it's uncertain the courts will hear a second extraordinary appeal.
Ad. Article continues below.
Everyday Australians and our own TV stars have stepped in to stand up for the pair with empathy. "I stand for mercy" is the catchcry for the campaign, and the video below tells the story.
Tell us today… Do you stand for mercy? I do. I think everyone who has the chance for a second chance, and has made a good shot at it, should.