Do you celebrate Christmas in July? Why not go on a cruise?!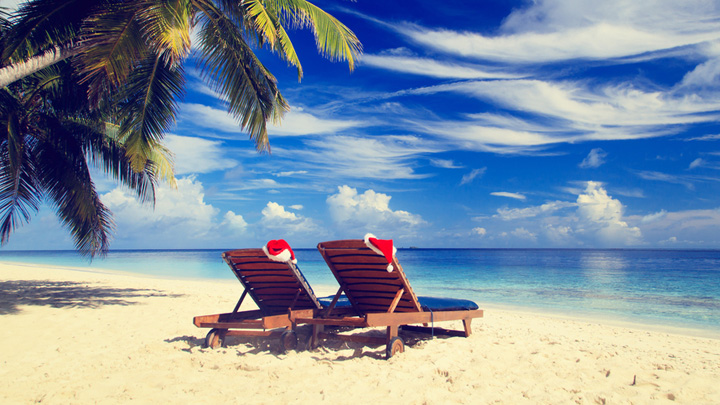 You don't have to wait until December for Christmas with Captain Cook Cruises' PS Murray Princess celebrating Christmas in July on three, four and seven night Murray River cruises between July 8 and July 29.
The cruises include a traditional Christmas Dinner or lunch, a range of Christmas themed activities and games, Christmas music, egg nog and a visit from Santa with presents for all the guests.
The three night Christmas in July Discovery Cruise starts from $787.00 per person twin share, the four night Christmas in July Outback Heritage Cruise from $1076 and the seven night Christmas in July Murraylands and Wildlife Cruise from $1605 per person twin share.
Visit www.murrayprincess.com.au
AMERICA AND CANADA
Ad. Article continues below.
America's Pacific North West, Canada and Alaska are combined in a new cruise tour offered by Cruise Express in August.
The 23-night 'Pacific North West and Alaska' tour includes a seven-night Alaskan cruise and a tour into the Alaskan wilderness with stays in luxury lodges near Denali National Park and Mt McKinley.
Departing Australia on August 27, the itinerary begins with two nights in Portland and also includes two nights in Seattle.
The cruise from Vancouver includes visits to Ketchikan, Juneau and Skagway as well as Glacier Bay and College Fjord.
Cost, including return airfares from Australia, 13 nights accommodation and the seven-night cruise, is from $9999 per person, twin-share.
Ad. Article continues below.
Call 1300 764 509 or visit www.cruiseexpress.com.au
UPPER MEKONG
Pandaw, the luxury river cruise operator, has announced the launch of a new ship, the Yunnan Pandaw, sister ship to the Laos Pandaw which will sail on the Upper Mekong from Vientiane (Laos) to Jinghong (China) or visa versa on a 14-night journey.
Travellers can combine the Upper Mekong cruise with Pandaw's seven-night Classic Mekong cruise from Saigon to Siem Reap and sail the Mekong from China to Saigon and vice versa. For those taking this extended journey, Pandaw offers a complimentary three-night stay in Siem Reap, including guided visits to Angkor Wat.
Cruise only prices start from USD5670 per person based on two people sharing a main deck twin cabin. Visit www.pandaw.com.
Ad. Article continues below.
NORWAY
A ship named after the midnight sun will take Australians to the top of Norway in the northern summer this year as part of a new 15 night rail and cruise tour offered by Cruise Express.
Hurtigruten's 1000-passenger ms Midnatsol – Norwegian for midnight sun – will journey north from Bergen to North Cape and beyond to the Russian border. During the voyage this August – just two months after the summer solstice – the ship will enjoy 24-hour daylight.
The 'Land of the Midnight Sun' tour from Cruise Express begins on August 21, 2016, when travellers fly to Norway's capital, Oslo, for a two-night stay before taking the train to
Voss and Bergen.
Ad. Article continues below.
The six night cruise a six-night departs Bergen and ends at the remote town of Kirkenes near the Russian border. Guests then fly back to Oslo for a final night's stay before the flight back to Australia.
Cost, including return flights from Australia, is from $8990 per person, twin-share, or from $10,990 for solo travellers.
Call 1300 764 509 or visit www.cruiseexpress.com.au.
AUSTRALIASIA
Seabourn has revealed details of the most luxurious and largest suites on Seabourn Encore, the ultra-luxury line's newest vessel which is launching late 2016 and heading to Australia for its first summer.
Ad. Article continues below.
The two Grand Wintergarden Suites will feature a private glassed-in solarium with a soaking tub and day bed, two bedrooms, two and a half bathrooms, two private verandas, dining for six, convertible sofa-bed, pantry with wet bar and espresso machine, and three flat-screen televisions.
Seabourn Encore will cruise Australian waters during its first season, making nine maiden calls to Australian ports from Darwin to Geelong between January 22, 2017 and March 17, 2017 following its naming ceremony in Singapore in early January.
Tell us, where would you like to go cruising?