Do we really need another Q&A?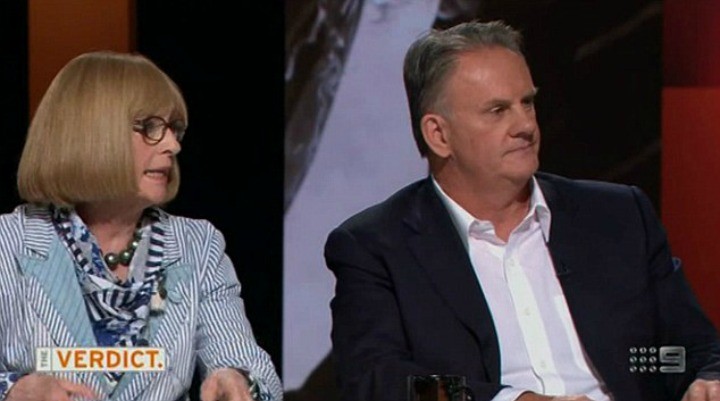 The verdict is in on last night's launch of Channel Nine's panel discussion show, and it's not pretty.
Racism, bullying and offensive comments aside, the major problem was that you couldn't hear a thing anyone said. Unless they managed to shout louder than the rest of the panel – who were all already shouting.
The Verdict is allegedly based on the ABC's Q&A, and Channel 10's The Project, but aside from the presence of a table and a bunch of people with opinions, the similarities ends there.
If the show is to proceed, which Nine bosses have implied it will, host Karl Stefanovic needs to learn to control the panel. The shout-fest was impenetrable, with the hist forced to cry pleadingly, "It doesn't work if we all talk over each other". With this format, commercials are a blessing as it presumably gives producers a chance to rush in and shut the panel up ready for the next segment.
The media – both traditional and social – has plenty of withering comments to say about the show, and someone actually started a petition on Change.org asking the network to remove Mark Latham and replace him with "pretty much anyone".
Ad. Article continues below.
The Age described host Stefanovic as "TV's premier journalist/vaudevillian" and made it clear that The Verdict is no commercial version of Q&A:
"The Verdict is like Q&A in the same way a goldfish is like a labradoodle. You can keep both as pets but only one is going to pee on your carpet.
Comments from Twitter included that the show was "Q&A for bogans".
Most comments focused on the offensive nature of Mark Latham comments, which included Western Sydney being a hotbed of terrorism because of all the Muslims sitting around with nothing to do.
He later went on to say the government was spending too much money on mental health, which he called "worrying too much" and that doctors were handing out anti-depressants like lollies.
Other highlights of the show were Jaquie Lambie opening up about receiving death threats over her comments about Muslims… but you couldn't really hear what she had to say.
Did you catch The Verdict? Do you think we need a commercial version of Q&A?