Diana's brother slams the treatment of his nephews at her funeral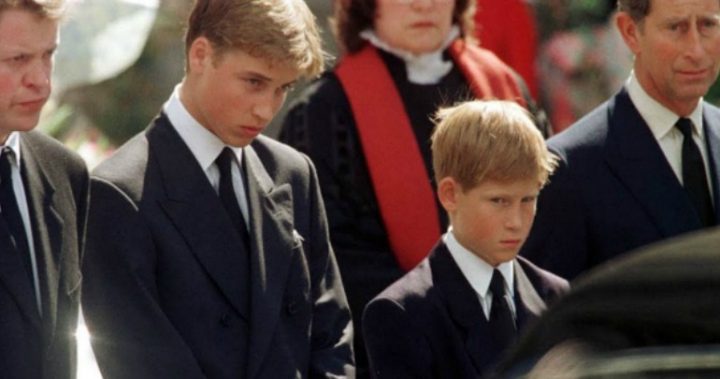 On top of his revelation that his late sister's grave had been the site of four attempted robberies since her death in 1997, Charles Spencer also revealed some heartbreaking truths about Princess Diana's funeral. 
Read more: Diana's brother reveals sickening truth about her grave
The image of the young Princes William and Harry, aged just 15 and 12 at the time, solemnly walking behind their beloved mother's coffin during her funeral procession is one that haunts many to this day, but more so, it seems, Spencer, who slammed the royal family's treatment of the boys.  
Harry has previously spoken about the trauma of being made to walk behind Diana's coffin on that harrowing day, but Spencer told BBC Radio 4 recently that he tried to stop William and Harry being put in that position, only to be blocked by a palace official. 
"I thought it was a very bizarre and cruel thing for them to be asked to do," he said. 
Ad. Article continues below.
"I said, 'she just would not want them to do this', and there was lots of sort of embarrassed coughing the other end.
"Eventually I was lied to and told that they wanted to do it, which of course they didn't."
Read more: Prince Harry opens up about his 'two years of chaos'
"It was truly horrifying," Spencer told the station.
"The feeling, the sort of absolute crashing tidal wave of grief coming at you as you went down this sort of tunnel of deep emotion, it was really harrowing and I still have nightmares about it now."
Ad. Article continues below.
Recently, Harry himself revealed that the experience had been "agony" for a child to go through. 
"My mother had just died, and I had to walk a long way behind her coffin, surrounded by thousands of people watching me while millions more did on television," he said. 
"I don't think any child should be asked to do that, under any circumstances. I don't think it would happen today."
Do you agree that is was "cruel" to make William and Harry walk behind their mother's coffin?