Debbie Reynolds speaks out about daughter's affair with Harrison Ford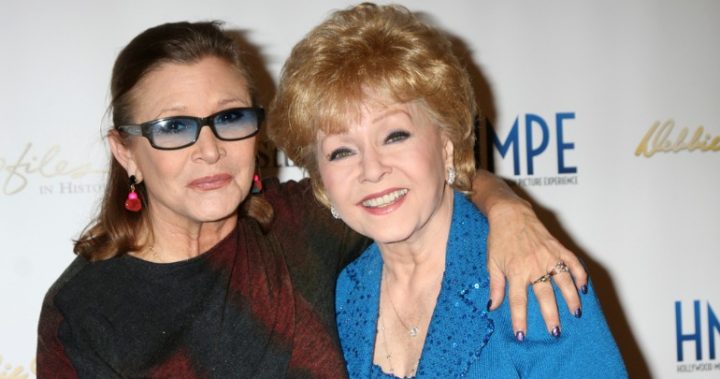 It's not every day your mother comes out and talks about your sex life in public, but that's exactly what happened to Carrie Fisher today when her mother piped up about her affair with Harrison Ford.
Debbie Reynolds has responded to questions over Carrie and Harrison's affair, basically asking, "Who cares?".
Earlier this week, Carrie released her book 'The Princess Diarist' in which she admitted to having an affair with Harrison while he was still married to his first wife.
Tech-savvy Debbie jumped online to share her thoughts and it seems she can't see what all the fuss is about.
"Why all the fuss about Carrie's admitting she had an affair with Harrison Ford?" she wrote.
Ad. Article continues below.
"I have to admit I slept with her father! New book on 11/22!" she said sarcastically.
Debbie, who is well known for her starring role in 'Singin' in the Rain' has had her own experience with extramarital affairs, telling The Express last year all three of her husbands left her for other women.
Carrie's own father Eddie Fisher had an affair with Debbie's best friend Elizabeth Taylor.
"My three husbands all left me for another woman and obviously I wasn't a very sexual lady," she said.
Ad. Article continues below.
"My husbands all repeatedly said the same thing – that I was not a very passionate woman."
In her book, Carrie described the affair as "a very long one night stand".
Read more: Carrie Fischer breaks silence on Star Wars scandal
"I looked over at Harrison. A hero's face — a few strands of hair fell over his noble, slightly furrowed brow," she wrote.
Ad. Article continues below.
"How could you ask such a shining specimen of a man to be satisfied with the likes of me?
"I was so inexperienced, but I trusted something about him. He was kind."
While the affair has been a catalyst for sales of the memoire, it doesn't look like Debbie will be raising her care factor much higher than zero!
Are you a fan of Debbie Reynolds? What do you think about Carrie Fisher revealing the affair?