Debbie Reynolds sends heartfelt message about her daughter's condition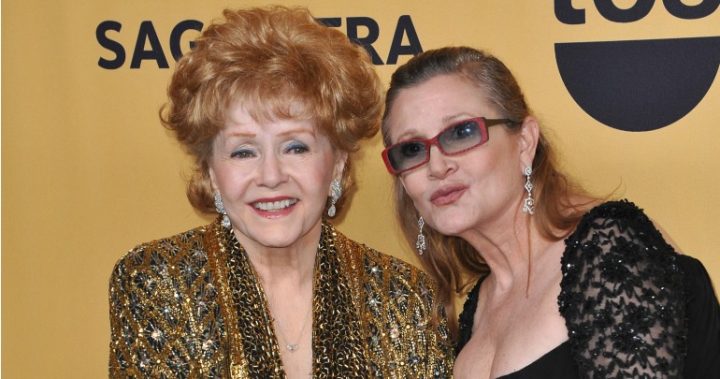 Fans around the world were left shocked on Friday when news broke that actress Carrie Fisher had suffered a massive heart attack on a flight from London to Los Angeles.
Now, her mother, legendary Hollywood actress Debbie Reynolds, has spoken out for the first time and given an update on her condition.
Debbie was in her hometown of Las Vegas when she was told of Carrie's heart attack and rushed to her side as soon as she could.
The entire family are believed to have spent Christmas at the hospital with Carrie as they wait and hope she can recover in the ICU.
Debbie is an avid user of social media and sent out a message giving an update on Carrie's condition and thanking everyone for their support.
Ad. Article continues below.
"Carrie is in stable condition.If there is a change,we will share it. For all her fans & friends. I thank you for your prayers & good wishes," she wrote.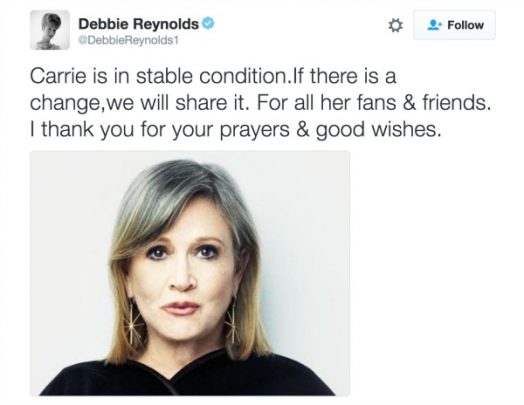 It's the kind of situation no parent ever wants to be in – seeing your child sick and helpless and unable to do anything about it.
Ad. Article continues below.
They say that watching your child suffer is one of the hardest things to do and no doubt many parents out there would agree.
Carrie and Debbie are known to be close, with the two regularly supporting each other throughout their careers.
She's had plenty of messages of support come through from fans and friends, including former co-start Harrison Ford who said, "I'm shocked and saddened to hear the news about my dear friend. Our thoughts are with Carrie, her family and friends".
Yesterday, Carrie's brother said she was in a critical condition with doctors putting her on a ventilator to help her breath.
Are you a fan of Debbie and Carrie's films? Will you be wishing her well throughout this tough time?