Deb balls sure aren't like this used to be, and this is the fanciest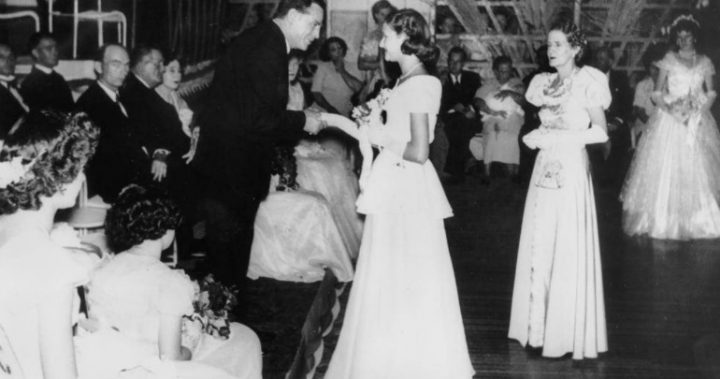 It's the world's fanciest debutante ball, and it certainly bears no relation to the debs balls or cotillions of past decades!
The daughters of the world's super-wealthy had their 'introduction to society' in Paris at the weekend at the 25th annual Les Bal des Debutantes, and the dresses on show were a long way from the demure white frocks that used to be de rigeur for high-society girls in the past.
Debs balls, or cotillions, as they're often called in the US, have been around for hundreds of, but made a big comeback in the 20th century, when American and British upper-class families hoped putting their lovely daughters on show would help them secure a good marriage.
The blog solosophie.com makes the point that in Australia, though, debs balls weren't about 'society' as much as they were like a high school prom or formal, usually organised by a school, church or youth group, and held to raise money for charity.
Regardless, between the ages of 16 and 18, girls put on their nicest white dresses, long gloves, and went to the dance, usually clutching a bouquet.
Ad. Article continues below.
Although the practice has dropped out of fashion in the UK – Queen Elizabeth herself put an end to it in 1958 in Britain, Solo Sophie says – and in Australia more recently, they do still occur in the UK, such as this one at Leeds Castle in September.
And they remain popular in parts of the US, where one of the fanciest is the Cotillion Ball held every year at the Waldorf Astoria hotel in New York.
For the real high society, though, there is the Paris event, which the daughters of billionaires and celebrities fly in for, to show off designer dresses in front of the world's cameras.
Actress Reese Witherspoon's daughter Ava was among the girls 'coming out' this year. The Peninsula Hotel, which hosted Les Bal des Debutantes, posted a video of her dancing with her partner for the evening, the Maharaja Padmanabh Singh of Jaipur, India, in a stunning, floor-length Giambattista Valli haute couture gown.
Ad. Article continues below.
The daughter of US TV personality Steve Harvey was reportedly also in attendance.
Did you go to a deb ball or cotillion? What was your dress like?