Dawn French reveals stunning new figure after dramatic weight loss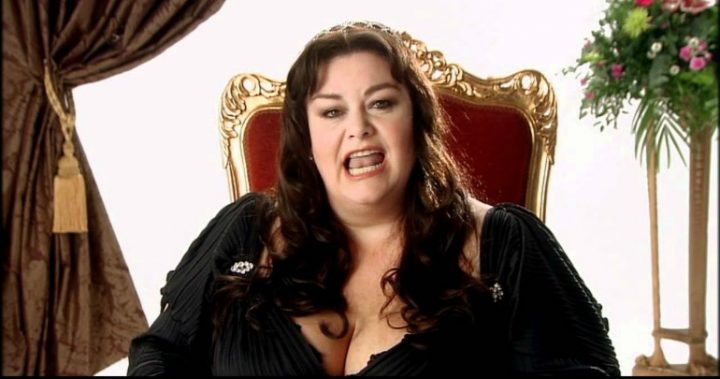 Fans have been full of praise for Dawn French after she revealed her healthy new figure following a significant weight loss. 
Best known for starring in and writing for the comedy sketch show French and Saunders with comedy partner Jennifer Saunders and for playing the lead role of Geraldine Granger in popular British sitcom The Vicar of Dibley, the previously voluptuous, full-figured English actress and comedian has reportedly lost close to 50 kilograms after overhauling her diet in preparation for a hysterectomy in 2014.
During a 2016 tour, she told fans about the motivator behind the lifestyle change. 
"When I was due to have my hysterectomy the doc told me that if I could lose some weight before the op, they would be able to do it via keyhole, and I would recover in three weeks or so," she said.
"Otherwise it would be big open surgery, and three months to recover. So, I set about dropping a few stone."
Ad. Article continues below.
She explained also that it was no easy task, and purely about the practical purpose of an easy surgery. 
"No magic wand, just tiny, joyless low-cal eating and lots more walking for weeks and weeks," she said.
"It was grim. I lost seven-and-a-half stone. I could have the keyhole surgery. Great. That's all it was, practical."
Photos show French, 59 attending the Glamour Women of The Year awards 2017, almost unrecognisable.
She's also been using her new figure for modelling clothing designed in collaboration with Helen Teague for online retailer Sixteen47.
Ad. Article continues below.
You can really see the difference when looking back at this photo of French at theBritish Academy Television Awards  back in 2009.
French's much slimmer frame has clearly pleased her fans, who have had nothing but lovely things to say about her new look. 
You may have also noticed that she's had a big hair change as well, with her iconic fringe swept back in a stylishly sleek new 'do. 
Ad. Article continues below.
Gorgeous top and you look fabulous!!!

— Emeraldcity1 (@Emeraldcity1) July 6, 2017
Looking good @Dawn_French!

— Emma Whitehurst (@enwhitehurst) July 6, 2017
She's always been a comedy queen, but it's great to see her kicking her personal goals!
What do you think of French's incredible weight loss?