Dame Helen Mirren playing with her puppies will bring a smile to your face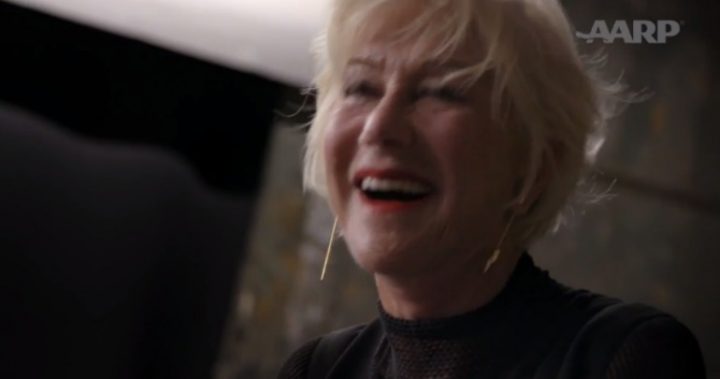 They say you should never play with your puppies in public, but Dame Helen just couldn't help herself… and really after more than five hours of being interviewed and having her photograph taken you can hardly blame her!
Dame Helen had been sitting down with AARP The Magazine, on which she will be the cover for its December/January issue talking about everything including ageing (she has not problem with it) and the one thing she shouldn't be called (sexy, in case you were curious).
Helen Mirren graces the cover of AARP's December 2016 / January 2017 issue: https://t.co/KWEjn0lhCH pic.twitter.com/JRfvv9QLnb

— Helen Mirren Archive (@mirrenarchives) November 30, 2016
"The best thing about being over 70 is being over 70. Certainly when I was 45, the idea of being 70 was like 'Arghhh!' But you only have two options in life: die young or get old. There is nothing else," she says.
Ad. Article continues below.
When all the formalities were over, she was given one hell of a surprise — an influx of tiny, fluffy, barking and wagging puppies!
Immediately the 71-year-old actress was smiling and showed a playful side of herself. You'd have to ask though, who could resist such cuteness?!
Why yes I will watch a video of Helen Mirren playing with puppieshttps://t.co/nd1CziJPZ0

— Annelise Baer (@annelisebaer) December 7, 2016
Dame Helen picked up the pups, snuggled into them, talked to them in a baby voice that seemed perfectly acceptable and had a marvellous time.
Ad. Article continues below.
"The smallest dog can be the one who leads the pack," she says in the short clip.
Seriously, just when you didn't think Dame Helen could get any cooler, she goes and lures you in by playing with her puppies.
Are you a Dame Helen fan? Do you have any furry friends in your life that bring you joy? Tell us about them.