Dad's hilarious campaign asks politicians to fund family holiday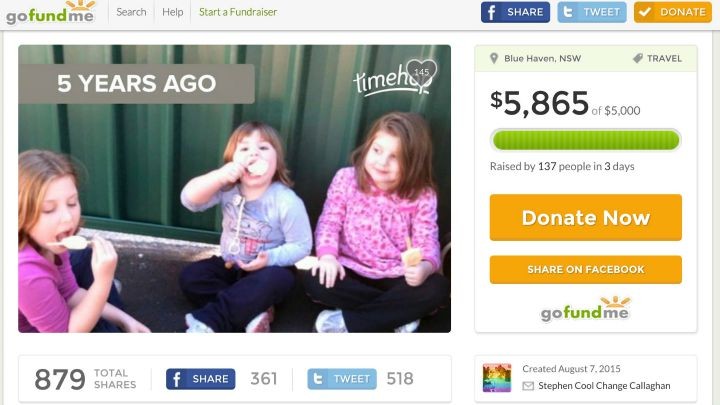 A "working class" father of three who was angry at the way politicians used public money to fund holidays for their families launched a campaign on a crowdfunding website to ask politicians to pay for his family holiday.
Stephen Callaghan from Blue Haven, New South Wales, wrote on his Go Fund Me page:
"Dear Federal MPs … It has come to my attention that many of you have been using tax payers' money to fly your children around on various holidays, fireworks visits, excursion and overseas vacations.
"I would appreciate it greatly if you were able to donate to my Go Fund Me campaign so MY kids can go on a holiday too.
"This isn't designed to beg for donations from everyday Australians…. they have already paid too much for YOUR kids…. but I find that Australian people are generally amazingly generous and fair minded. I can guarantee I will get more from Aussie Workers than I will from Politicians on $200k (plus entitlements)… all I ask is that, in the words of our great Prime Minister, Tony Abbott, my children get a 'fair go'.
Ad. Article continues below.
"Please consider being a Lifter (not a Leaner) and lifting my kids aboard a plane or a train (or even a cruise ship if you give generously) by sharing the perks YOU get with 3 ordinary Australian kiddies."
Mr Callaghan started the campaign to make a statement about the travel claims made by Christopher Pyne, Tony Burke and Joe Hockey, but has been overwhelmed by generosity, with the page surpassing its $5000 target.
"I'm surprised and overwhelmed and feeling a little bit guilty because I wanted the pollies to kick in, but instead a lot of ordinary people have," he told the ABC.
One donor threw $2000 into the hat.
"I contacted the guy and said 'that's way too much', he has to take it back," Mr Callaghan said. "But he said he was single and well-off and thought we deserved it and hoped we had a good holiday.
Ad. Article continues below.
"He refused to take it back."
Mr Callaghan says he is disappointed the campaign, which has received extensive media coverage, was being completely ignored by federal politicians.
"I didn't expect any contributions, it was just done in anger … but not even a comment? They've really just closed ranks on this," he said.
Just one politician, Lake Macquarie city councillor Chad Griffith (ALP), decided to donate to the Go Fund Me campaign.
Mr Griffith said his $200 donation was not a political statement but that it would have "been nice" to see a small contribution from federal politicians.
Ad. Article continues below.
Mr Callaghan will be donating $2500 of the money raised to children's charity Stewart House. The rest will be used to make his family holiday that little bit more special.
Are you surprised that only one politician chipped in?