Dad's Army creator Jimmy Perry dies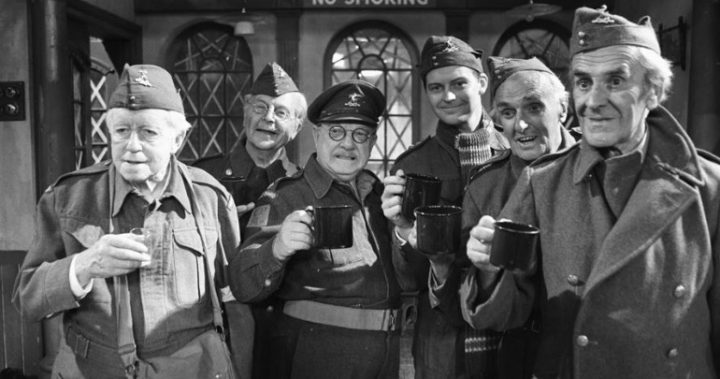 He's responsible for bringing you classics such as It Ain't Half Hot Mum and Hi de Hi, not to mention the much-loved Dad's Army that drew more than 18 million viewers at its pinnacle and now Jimmy Perry has died.
The creator who brought laughs to generation after generation passed away at the age of 93 after a brief illness.
Who could forget the classic Dad's Army characters of Captain Mainwaring and Corporal Jones, the Gloria and Lofty from It Ain't Half Hot Mum… What about Hi de Hi's Ted Bovis? Perry and writing partner David Croft brought them all to life for your enjoyment.
We're saddened to learn Dad's Army creator Jimmy Perry has died. pic.twitter.com/FPaZ4OKyBx

— BAFTA (@BAFTA) October 23, 2016
Ad. Article continues below.
Released in 1968, Dad's Army ran for nine years. Perry once said that he drew on his life experiences for his writing, having been a young member of the Home Guard during World War II.
Perry also composed many of the theme songs for his comedies, including the iconic 'Who Do You Think You Are Kidding, Mr Hitler?'
His agent, Tim Hancock, released a statement confirming Jimmy Perry's death, saying, "His family would like to grieve in private. As his agent of many years, I have never met anyone as generous, dignified, funny and with as big a heart as Jimmy. He will be sadly missed."
Tributes have been flowing on social media, with many from those who had the opportunity to work with Jimmy Perry.
So sad we have lost #JimmyPerry a brilliant comedy writer & true gentleman. He leaves us such a legacy pic.twitter.com/tP4FnkIlqq

— Vicki Michelle (@vickimichelle) October 23, 2016
Ad. Article continues below.
Sad to hear of the passing of #JimmyPerry so instrumental to my career. Brilliant writer & proud to call him friend RIP Jimmy pic.twitter.com/pKMIgWNgGK

— Jeffrey Holland (@JeffHolland07) October 23, 2016
We grew up laughing at Jimmy Perry's hilarious characters. One of our greatest TV writers who will not be forgotten. https://t.co/DdLEINkQ2x

— Tom Watson (@tom_watson) October 23, 2016
Ad. Article continues below.
Jimmy Perry received an OBE in 1987.
Earlier this year Dad's Army was made into a movie and Perry rated the new stars — Bill Nighy, Sir Michael Gambon and Sir Tom Courtney — as "first class".
"They did a very good job it it. That's how I'd like to be remembered, as the man who dug up Dad's Army," Perry said at the time.
Did you watch any of the Jimmy Perry classics — It Ain't Half Hot Mum, Hi de Hi and Dad's Army? What messages of condolence do you have for Jimmy Perry's family and friends?