White nationalist rally goes terribly wrong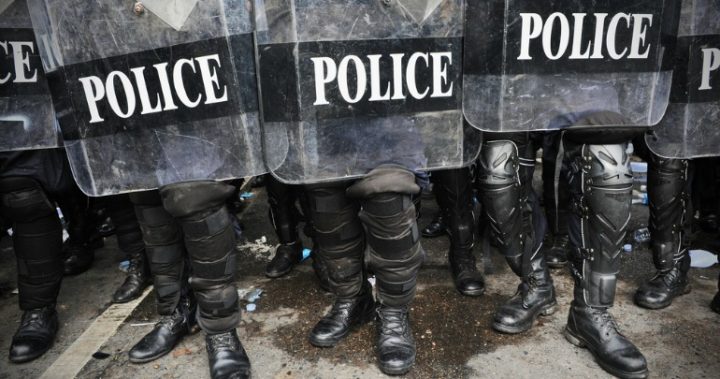 Hatred and bigotry were rampant in the US today where a car purposely smashed into a group of counter-protestors at a white nationalist rally causing one death and multiple injuries
The incident occurred in downtown Charlottesville, Virginia with video from the scene showing the car speeding towards the crowd where it strikes two vehicles before sending protestors flying onto windscreens.
The Courier Mail reported that a Virginia official said the driver was now in police custody.
UPDATE: 1 deceased, 19 injured in crash at 4th and Water streets. Fifteen other injuries reported related to rally downtown #cvilleaug12 pic.twitter.com/o9bVuUvdh2

— Charlottesville City (@CvilleCityHall) August 12, 2017
Ad. Article continues below.
Charlottesville Mayor Mike Signer took to social media to share his regret over what occurred during the white nationalist rally, which was shut down by police before it began.
I am heartbroken that a life has been lost here. I urge all people of good will–go home.

— Mike Signer (@MikeSigner) August 12, 2017
Virginia Governor Terry McAuliffe had already declared a state of emergency in order "to aid state response to violence" at the rally.
"It is now clear that public safety cannot be safeguarded without additional powers, and that the mostly out-of-state protesters have come to Virginia to endanger our citizens and property," McAuliffe wrote.
Ad. Article continues below.
Donald Trump also condemned the rally while he was at another event signing a bill to expand benefits for veterans.
"We're closely following the terrible events unfolding in Charlottesville, Virginia," he said. "We condemn in the strongest possible terms this egregious display of hatred, bigotry and violence, on many sides."
Of the hatred and bigotry in Charlottesville, Trump said: "It's been going on for a long time in our country. Not Donald Trump. Not Barack Obama. It's been going on for a long, long time."
But its seems his wife Melania got the jump on her husband and took to social media to quickly condemn one of the largest hate rallies in the US for decades.
Our country encourages freedom of speech, but let's communicate w/o hate in our hearts. No good comes from violence. #Charlottesville

— Melania Trump (@FLOTUS) August 12, 2017
Ad. Article continues below.
Trumps critics slammed the president for taking hours to make a statement despite the first lady tweeting her thoughts long before anyone in Trump's administration.
We ALL must be united & condemn all that hate stands for. There is no place for this kind of violence in America. Lets come together as one!

— Donald J. Trump (@realDonaldTrump) August 12, 2017
The white nationalist rally was declared an unlawful assembly despite the group being granted a permit to hold the event.
Ad. Article continues below.
Earlier this year, the city voted to remove a controversial statute of Confederate General Robert E.Lee from a downtown park, sparking the confrontation.
Corinne Geller, Virginia State Police Spox: "This is not a good day for Charlottesville. This is not a good day for the Commonwealth." pic.twitter.com/1UTBmTCsco

— Fox News (@FoxNews) August 12, 2017
Have you ever been involved in a protest rally?