Tracey Grimshaw to go head-to-head with Don Burke tonight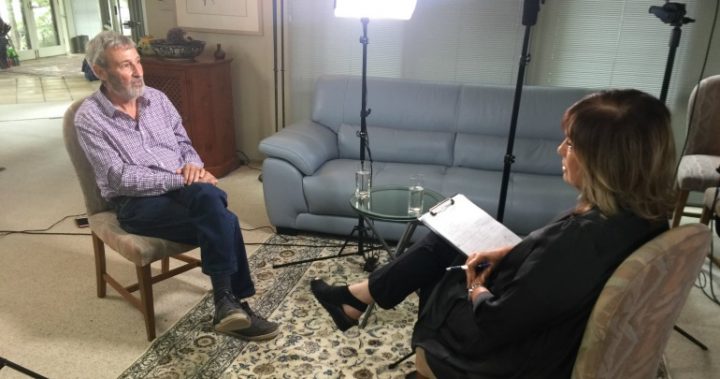 It's been a big day for TV personality Don Burke but it looks like things are about to get bigger.
The 70-year-old gardener is set to sit down for an exclusive interview with Tracey Grimshaw for A Current Affair. The episode will air at 7pm tonight. 
Earlier today, Grimshaw was spotted arriving at Burke's home in Sydney's north-west, but Channel Nine have now confirmed that it wasn't a simple social visit.
"Burke today sat down for a heated interview with A Current Affair's Tracy Grimshaw in which he is grilled on the allegations that he was a 'sexual predator' and a 'psychotic bully' during the hit gardening show's 17-year-run on the Nine Network," a press release read.
The ABC and Sydney Morning Herald broke news this morning, suggesting that the much-loved TV star had sexually assaulted and bullied more than 50 women during his prime between the 1980s and 1990s.
Ad. Article continues below.
Read more: ABC, SMH accuse Don Burke of being a 'high-grade, twisted abuser'
The numerous reports labelled him a "psychotic bully", a "misogynist" and a "sexual predator".
Burke has so far denied the allegations and made a statement through his lawyer this morning.
He said: "I am deeply hurt and outraged at the false and defamatory claims in your correspondence. It is evident that these baseless claims concern statements from a few ex-employees of CTC Productions who bear grudges against me."
He also suggested that he was disgusted by Harvey Weinstein's behaviour and said that he had a "life-long opposition to sexism and misogyny".
Ad. Article continues below.
The journalist who broke the story about Burke said that a further 200 women have since come forward claiming that he has assaulted them.
Read more: 200 additional complaints following Don Burke harassment claims
Speaking in a video posted on ABC News' Twitter page, Kate McClymont said: "As a result of the story going out this morning and at 7:30 tonight, my email today, I've had at least 200 emails with people coming forward with further allegations of basically inappropriate behaviour."
Channel Nine has also come under fire over the allegations and released a statement.
They said it is "simply not in a position to comment on these specific allegations or on how these sorts of matters may have been dealt with in the past".
"The allegations are extremely serious; the behaviour described is completely unacceptable and would not be tolerated at Nine today. Nine has zero tolerance of sexual harassment and workplace bullying and no employee should be subjected to this kind of behaviour."
Will you be watching the interview tonight? Do you think Tracey will go easy on Don Burke?