Stuart Kelly's parents call for inquest as uni hazing rituals exposed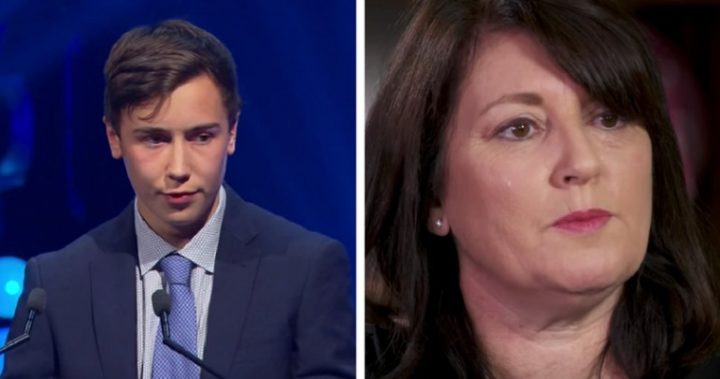 The devastated parents of Stuart Kelly are calling for a coronial inquest into his death, after he tragically committed suicide following one night at a Sydney university that left him "broken".
Now, as a new and comprehensive report into hazing culture at university colleges is released, Stuart's parents claim it may have played a role in their son's death, news.com.au reports.
Stuart, 18, committed suicide in July, 2016, just four years after his brother Thomas was killed in a coward-punch attack in Sydney. Stuart went on to campaign for changes to lockout laws, in memory of his brother, and continued to excel in his studies – despite his overwhelming grief.
However, after spending just one night at Sydney University's St Paul's College, his parents Ralph and Kathy Kelly say he was left "sobbing uncontrollably". They suspect hazing rituals may have played a part, and even claim he could have been assaulted on the mysterious night.
Ad. Article continues below.
In statement filed to New South Wales police, and obtained by news.com.au, Kathy is claimed to have said: "I believe that he was assaulted, possibly sexually, this was something Stuart would never have recovered from."
Stuart's family opened up about the mysterious night on 60 Minutes last year, and Kathy said at the time: "He went off to university at Sydney, for one night at a college, and he came home a different person the following day."
"It just changed him, he was broken," she added on the show. Revealing details of the night on air, Kathy said they found their son "sobbing uncontrollably" when they picked him up the next day – leading them to believe something "catastrophic" must have happened to him. Stuart never revealed exactly what happened, and Kathy said he barely left his room for the following few months.
Now, a 200-page report titled The Red Zone, produced by the action group End Rape on Campus, has been released. The report, which has been seen by Starts at 60 and will be sent to colleges for response immediately, has called for an investigation into hazing and sexual assault in residential colleges. The findings are shocking, and range from claims male students masturbated into women's shampoo bottles at one college, to new students being forced to drink their own vomit.
Read more: Stuart Kelly took his own life after being bullied over lockout laws
Ad. Article continues below.
The report looks at several different colleges, with many based around Sydney, and calls for action to stop the hazing culture.
Several students share their first-hand experiences of college life. Gabbie Lynch, a student at Sydney University who lived at St John's College in 2016 and 2017, claims she and others were forced to sit on the floor for hours as 'freshers' (new students), while older students "screamed" at them.
Another ritual saw her and other students forced into a dark room where they had dead fish thrown at them, she claims, while another time she allegedly woke up to find three strange men in her room – but says when she reported it, she was told she should be "grateful" to have one of the better rooms on campus.
"All the male and female freshers were locked in the uni-sex bathrooms," she said in the report. "We were then completely doused with buckets of dead rotting fish. It was revolting and it stunk."
Ad. Article continues below.
The deputy head of St Paul's, Geoff Lovell, told Starts at 60 the college "reiterates its deepest sympathy to the Kelly family in their distress and supports their desire to understand the causes of Stuart's death".
He went on to say it has undertaken its own "serious and comprehensive investigations" into Stuart's time there, along with external lawyers, and provided any findings to NSW Police.
"These investigations involved interviews with College staff, senior students and Stuart Kelly's fellow first year students," he said in a lengthy statement. "These investigations found that the allegations previously made were not substantiated."
Denying there is any "culture of hazing" at the college, he added: "The College will continue to co-operate fully and openly with those investigations, as well as with any further processes that may help." He concluded: "The College is committed to the values of respect and dignity, including equality of respect for women and men, and actions inconsistent with these values are not tolerated."
Do you think hazing rituals should be banned for universities? Did you, or any of your relatives, have to go through them?