Mercedes Corby: I don't get people who smuggle drugs for cash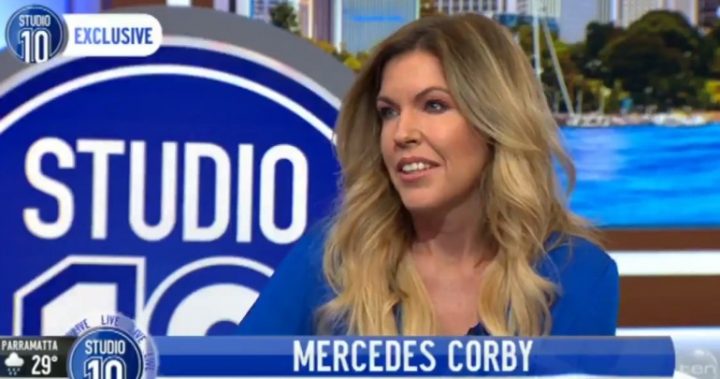 Mercedes Corby, the sister of Schapelle Corby, who was convicted of drug smuggling into Indonesia in 2005 and spent nine years in prison, has given her first television interview since her sister was released.
Talking on the show Studio 10, Mercedes revealed to Sarah Harris revealed some of the intimate details of how the family coped at the time, with the uncertainty of the trials, the hounding by media, and even things like their father's illness, then passing away. 
"She (Schapelle) went down to catatonic state," Mercedes Corby said.
Mercedes described how they had to give her medicine, feed and shower her, as she was unable to even do things like that for herself."
She admits it was a scary time. "But it must have been more scary for her, not knowing what was going on inside her head."
Ad. Article continues below.
"Ones who do it [smuggle drugs] for a bit of extra cash – I don't understand." – Mercedes Corby on "Cocaine Cassie." #Studio10 pic.twitter.com/j65L56suUt

— Studio 10 (@Studio10au) November 2, 2017
Schapelle has always maintained her innocence, saying the drugs were planted in her bodyboard bag.
It's different to the latest case with Cassie Sainsbury who'd just been sentenced after claiming she was forced into smuggling the 5.9 kilograms of cocaine that was found in her luggage at Bogota International airport in April. Sainsbury said a family member would be killed if she didn't do it, although so far she's not been able to produce evidence. 
While asked about Sainsbury's case Mercedes said she hadn't really been following it.
Ad. Article continues below.
"Any Australian caught up with drug smuggling overseas… one who do it just for a bit of extra cash, I don't understand."
But she admits she still feels bad for anybody imprisoned anywhere in the world.
With 'Cocaine Cassie', sentenced to six years, with the potential to be released in two and a half years, she did offer some advice for her family.
She said for the family to keep Sainsbury up to date with the outside world, and give her something to look forward to, would help them all. "It's hard for the families. They've just got to stay together." 
Mercedes said they'd been chased on Schapelle's return to Australia and she didn't understand the attention. She said the coverage of Schapelle was appalling, and she wished more journalists followed a code of ethics. 'They are playing with people's lives," she said.
Has Mercedes got any right to the high moral ground on this one? Do you consider the cases very different?