Horror as victim reveals moment her mother planned her teenage rape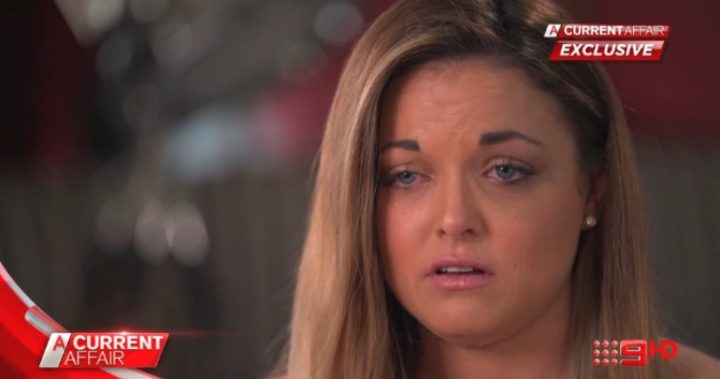 At the age of just 16, Peta Butler was the victim of a horrific sexual assault, orchestrated by her own mother at a motel they were staying at.
Now, she has broken her silence and bravely spoken out about the moment her mother, Therese, confessed to organising her teenage rape in 2006 in a shocking phone conversation – which was later used as evidence to bring the evil woman to justice.
Speaking on A Current Affair on Monday night, Peta revealed the shocking details of her ordeal, asking: "How could a mother sit outside, knowing her daughter is being raped by her potential boyfriend?"
"I think to myself, how could a mum do what she did," she added, as she struggled to contain her tears on camera. "I was hoping she was going to come in and stop it."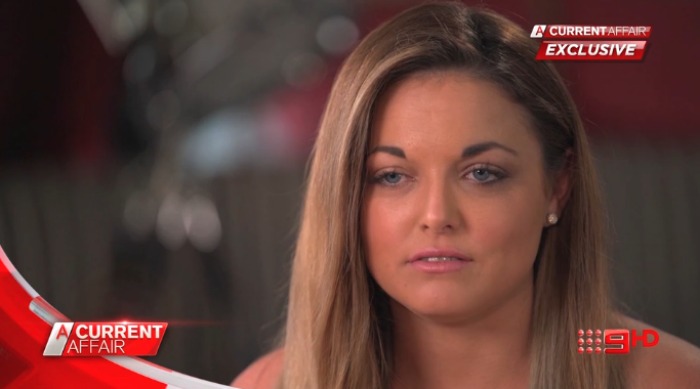 Peta was attacked by a man, known only as 'Thommo', in her motel room in Toowoomba, QLD. Her mother gave her four Vodka Cruisers to drink, before leaving her there as she allegedly smoked in the room next door.
The show aired a phone conversation between Peta and her mother, which was later used as evidence in her case, where Therese finally admitted to the crime. Peta is heard saying: "I told him no, I was crying. I was telling him no, I was crying."
Her mother eventually replied: "It was still, yeah, it was still rape, but you were 16. I wouldn't let him touch you under 16, no way."
Ad. Article continues below.
Asked why she didn't come in to stop it, her mother said she felt "scared", prompting Peta to cry: "I was scared too."
Peta revealed her childhood was "good", but admitted things got "horribly worse" when her parents split. Therese began online dating, leaving the kids to "fend for themselves". She began speaking to 'Thommo' when Peta was just 14-years-old, and had only met him once before the assault.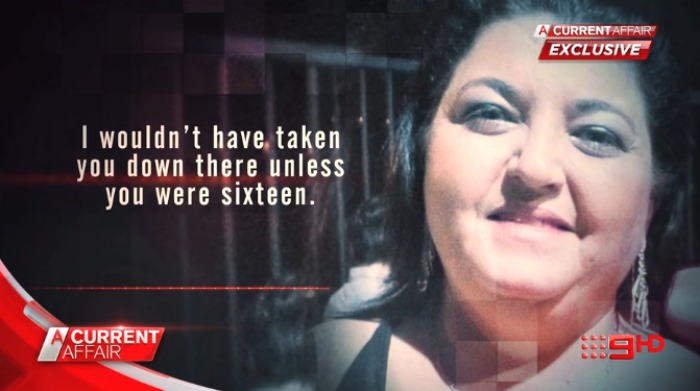 Reliving the day of the attack, Peta said she got a bus with her mother, but she slept the whole time – and didn't give any clue as to what was about to happen. Once there, she gave her daughter some drinks, making her think they'd be enjoying them together – but they were all for Peta. It wasn't long before Therese's evil lover arrived.
Ad. Article continues below.
"When the door opened she leaped into his arms, kisses and cuddles. She told me 'go to the room', so I thought they wanted some alone time," the brave mother-of-two told the show of her mother.
"After about five minutes the door opened and it was him. I stood up to leave the room because I thought he was going to the bathroom… But that's when he stopped me."
Admitting she couldn't think clearly, due to the drinks, Peta said: "He raped me, it only lasted a couple of minutes, but while he was doing it I had my head turned to the side and was crying… I couldn't talk, I couldn't scream out to my mum, I couldn't do anything. I told him no.
Peta eventually found the courage to turn the tables on her mother's betrayal, recording a nauseating confession that put her behind bars. Anybody with information is urged to contact Crime Stoppers on 1800 333 000. #EXCLUSIVE #9ACAhttps://t.co/fMFd5cgHoK pic.twitter.com/Jj1Lt1YPZW

— A Current Affair (@ACurrentAffair9) March 5, 2018
Ad. Article continues below.
"I felt his face stubble against my cheek, I still remember the smell of him."
As the show aired the phone conversation again, her mother could be heard saying: "I didn't think he would touch you." After it was over, Peta said Therese hugged her and said "everything would be ok" – which was what made her realise she had known all along.
Therese claimed she asked 'Thommo': "Did you touch her", before claiming he denied he had – so she allowed him to stay the night with her.
It eventually led to Peta battling depression, and she kept the dark secret for many years. Only when she had two daughters of her own, did she realise she needed to get help.
Revealing why she didn't speak out at the time, an emotional Peta said she didn't feel strong enough. Eventually, Detective Senior Constable Jodi Bel helped persuade her to reveal the hell and bring her mother to justice.
Ad. Article continues below.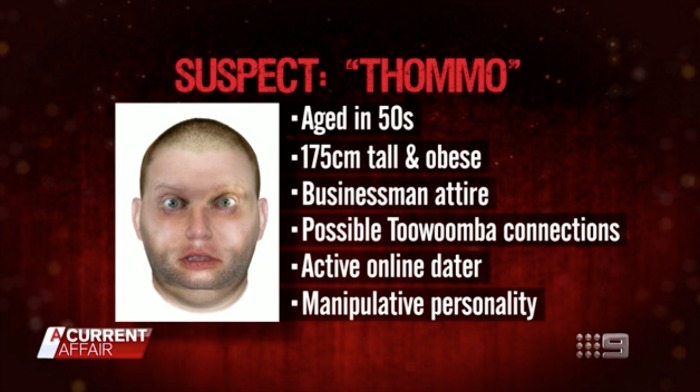 She added: "I need to set that example for my daughters, I need them to trust me… There might be another girl out there who he's done this to, and she might need her justice too."
However, the hell was ongoing following her mother's charges, as Peta has since received death threats. Now, she's worried what her mother could be capable of when she leaves prison. She will be released in October this year.
Ad. Article continues below.
Peta revealed she told her oldest daughter a few of the details, so that if anyone tries to pick her or sister up, she knows not to go with them.
Therese was sentenced to four years in prison, suspended after 12 months, for procuring a child for carnal knowledge. 'Thommo' has not been found – with police appealing for any information on him. Peta described him as "obese" with popping-out eyes.
The story sparked shock on social media, with one viewer writing on Twitter: "We need to see this rapist caught, for justice & to protect others."
Another added: "Peta we wish you the best you seem like a lovely lady forget about your Mum she doesn't deserve your thoughts," and one wrote: "Peta needs a full time Protective Services Officer."
Anybody with information is urged to call Crime Stoppers on 1800 333 000.
Do you think it's a brave decision to speak out to appeal for information?