Greens senator's support of kangaroo culling film branded 'insanity'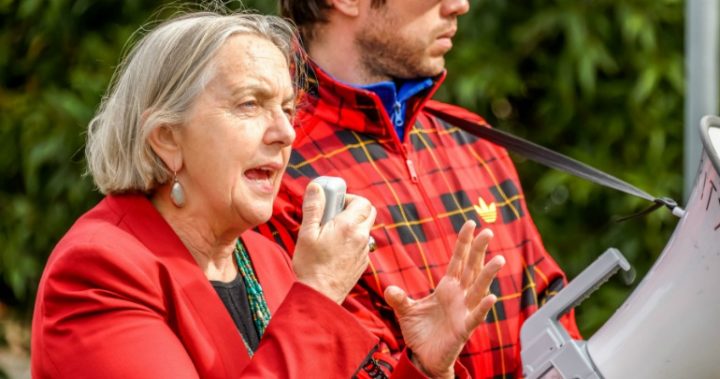 The Greens' Lee Rhiannon has come under fire from politicians and campaigners for promoting a controversial film slamming the Australian kangaroo meat industry.
The NSW senator is in Europe to speak at the premiere of the film, Kangaroo: A Love-Hate Story, despite it being branded "misleading" by campaigners. Now, Agriculture Minister David Littleproud has hit out and said it's "disgusting" that she would support such a controversial documentary.
The brutal film will focus on the culling and commercial exploitation of kangaroos, claiming they're close to extinction – despite there being more than 45 million recorded in Australia last year – according to official figures. The film questions the counts however, and claims some species are under threat.
"It's absolutely disgusting to think that we have an Australia Greens senator that is over trying to destroy [the] kangaroo meat industry," Littleproud told 2GB radio on Tuesday. "They are out there propagating false information, and I also have to ask the question, is Lee Rhiannon over in Belgium at the moment on taxpayers' money?
"If she is, she's got a big question to ask on how she can go into a foreign country and try and destroy Australian jobs. This is absolute insanity of Australian Greens."
Ad. Article continues below.
Read more: The beautiful moment a kangaroo says goodbye to his love
Meanwhile, he's not the only one angry about Rhiannon's bold move, as President of the National Farmers Federation Fiona Simson, said the documentary could threaten the market as a whole, and people's jobs.
"When we look at some of the complete misinformation and shock tactics that are being used in this documentary, then it is absolutely portraying a picture of rural and regional Australia that is completely false," she told the radio show's host Chris Smith.
"The numbers are not declining the point of extinction, in actual fact when we look at the numbers, the numbers are increasing so rapidly," she added.
According to The Australian, the film shows kangaroos being shot en masse, and includes a re-enactment of a phone call from an "anonymous kangaroo harvester". Later, as the body of a kangaroo is shown – after being killed by a gunshot – the film reportedly declares: "This kangaroo represents the face of the kangaroo industry."
Ad. Article continues below.
The movie, produced by Bondi filmmaker Michael McIntyre and co-director Kate McIntyre Clere, launches in Sydney next week, and has already aired in the US and Europe. A description on its official Facebook page reads: "This ground breaking film reveals the truth surrounding Australia's love-hate relationship with its beloved icon.
"The kangaroo 'image' is proudly used by top companies, sports teams and tourist souvenirs, yet as they hop across the vast continent many consider them pests to be shot and sold for profit. KANGAROO unpacks a national paradigm where the relationship with kangaroos is examined."
According to reports, the film attempts to keep balance by introducing a shooter who explains the industry code of conduct, but according to ABC, he then says while they attempt to take out the animals with a "brain shot", they aren't always successful.
I'm in Brussels talking kangaroo protection with Members of the EU parliament. First meet with @Dr_KlausBuchner, German Greens MEP and member of the EU Foreign Affairs Committee, and Martin Kohler, Greens adviser on trade. pic.twitter.com/DlPvbQ6Lk7

— Senator Lee Rhiannon (@leerhiannon) March 5, 2018
Ad. Article continues below.
The Government code of practice provides information on methods of shooting, and how to deal with injured animals. It specifies that it's illegal to shoot a kangaroo without a federal permit, with a penalty of a $10,000 fine if anyone is found doing so.
In a statement to Starts at 60, Senator Rhiannon confirmed her travel and costs were being paid out of her own savings. She added: "The commercial shooting of kangaroos is linked with serious contamination and cruelty issues. Kangaroo is bush meat and is not tested for many human-harming pathogens that scientists have warned as potentially serious health risks."
She went on: "Over 110,000 joeys were killed in commercial shooting operations in 2015 alone based on scientific analysis of reported Australian Environment Department data. Research also confirms that most dependent at-foot joeys are left in the field to die from starvation, predation or exposure, and that headshots are not always guaranteed."
She concluded: "The Australian government has a clear obligation to demonstrate it can guarantee that kangaroo meat is tested for human-harming pathogens and does not involve cruelty that is not legally allowed in the slaughter of cattle and sheep for consumption."
What do you think? Should Lee Rhiannon be promoting such a controversial film? Will you be watching it?