Disgraced pharma boss Martin Shkreli 'cries' as he's jailed for 7 years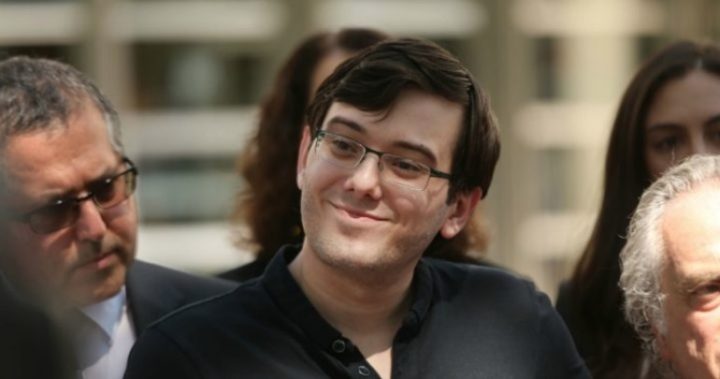 Disgraced former drug company executive Martin Shkreli has sparked controversy on numerous occasions in the past, whether it's through bragging about his wealth, or hiking up the price of a life-saving drug by 5,000 per cent in one night.
But he reportedly broke down in tears – and was full of remorse – as he was jailed for seven years for unrelated securities fraud.
Appearing at the hearing in Brooklyn, New York, Shkreli, 34, also known as 'Pharma Bro', attempted to convince the judge he had changed, and got choked up at one point, The Australian reports.
Read more: Reviled Pharma boss Martin Shkreli forced to forfeit $7.4M
"I'm not the same person I was," he reportedly said. "I know right from wrong. I know what it means to tell the truth and what it means to lie."
Ad. Article continues below.
He added in court: "The only person to blame for me being here today is me. There is no conspiracy to take down Martin Shkreli. I took down Martin Shkreli."
He was found guilty of two counts of securities fraud and a single count of conspiracy in August last year – in charges unrelated to his past controversial behaviour. In trying to generate sympathy for his client, his lawyer even reportedly said while he often wants to hug him, he sometimes wants to "punch him in the face" too.
US District Judge Kiyo Matsumoto ended up handing out seven years for the crimes, below the 15 years wanted by prosecutors, but much higher than the 18 months his own lawyer asked for. 
Read more: Pharmaceutical chief mocks Aussie school kids
The former drug company executive shot to fame — or infamy — when he purchased the lifesaving drug Daraprim in 2015 and increased its price by 5,000 per cent overnight. The drug is a World Health Organisation-listed essential medicine used to treat a parasitic condition found in some pregnant woman, babies and people with HIV. 
Ad. Article continues below.
Daraprim was relatively cheap in most countries at the time, costing $13.50 per tablet in the US and just $10 for a pack of 50 in Australia. After the price increase, US patients were forking out $750 for one tablet, with many forced to go without. 
But denying the recent sentence had anything to do with his controversial past, the judge told the court: "This case is not about Mr Shkreli's self-cultivated public persona … nor his controversial statements about politics or culture."
It was previously revealed he will also have to forfeit $7.4million in cash and assets. According to Reuters, Shkreli will have to hand over $5 million in cash in a brokerage account, and his stake in Vyera Pharmaceuticals, the company with which he purchased Daraprim. He may also have to part with a Picasso painting and a rare rap album by group the Wu-Tang Clan, for which he paid an exorbitant $2M.
Shkreli has been in jail since September, on unrelated charges accusing him of cheating wealthy investors in the two failed hedge funds. He had been out on bail, but the judge revoked the privilege after Shkreli famously offered a $5,000 bounty for a strand of Hillary Clinton's hair in a Facebook post.
The defence previously argued Shkreli shouldn't have to forfeit anything because the hedge fund investors are claimed to have made a profit from drug company stock he gave them. 
Do you think the punishment was fair? What do you think of his reaction?