Anguished father tries to attack doc who abused three daughters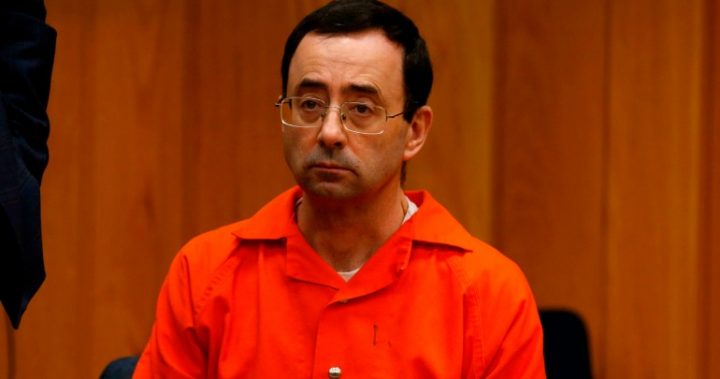 It's a reaction any parent would understand – that of an anguished father determined to avenge pain inflicted on his beloved daughters – but no one expected one father to act on it.
Randall Margraves, whose three daughters were sexually assaulted by shamed US gymnastics doctor Larry Nassar, shocked a US courtroom when he attempted to attack his daughters' abuser. Margraves had to be wrestled to the ground and handcuffed to prevent him getting to Nassar.
The high-profile medic has already been found to have abused at least 265 girls while working as the official doctor for USA Gymnastics and at a university and a gymnastics club. He was last week sentenced to up to 175 years in prison, and is already serving 60 years in prison after being separately found to be in possession of child abuse images.
Under the guise of treating talented young gymnasts for injuries, Nassar ran a long campaign of sexual abuse, with officials at USA Gymnastics, the universities and the club accused of turning a blind eye to his behaviour over many years, despite numerous complaints being made against him.
Margraves was one of more than 100 people permitted to address the court before Nassar's final sentencing. The angry father asked the judge, "I would ask you as part of the sentencing to grant me five minutes in a locked room with this demon". The judge declined, and then Margraves lunched at Nasser, calling the sexual predator a "son of a b****" and demanding "one minute" with the disgraced doctor.
Ad. Article continues below.
Margraves was then wrestled to the ground by three bailiffs, and was led from the court shouting "What if this happened to you guys?".
He later apologised to the court for his behaviour. The judge said he wouldn't be punished for his actions, adding that she understood the level of anguish felt by the families of Nassar's victims but that "we cannot react by using physical violence".
"I recognise that Mr Margraves had three daughters that he has had to watch go through the pain and the hurt. I can't imagine what it is like for a parent," Judge Janice Cunningham said.
Nasser's victims include a number of Olympic medallists, and the Michigan police force has publicly apologised for closing a 2004 case brought by a woman who complained of Nasser's abuse. At the time, the police decided that the doctor was using a legitimate medical technique. (Nasser abused the girls and women under the guide of 'examining' them.) 
Ad. Article continues below.
Michigan State University and USA Gymnastics face civil law suits that allege officials were aware of Nassar's behaviour from as early as 1988 but did not act until 2016, when both institutions fired him.
Would you do the same as this father if in this horrible situation?
Ad. Article continues below.