Could this be the solution to homelessness?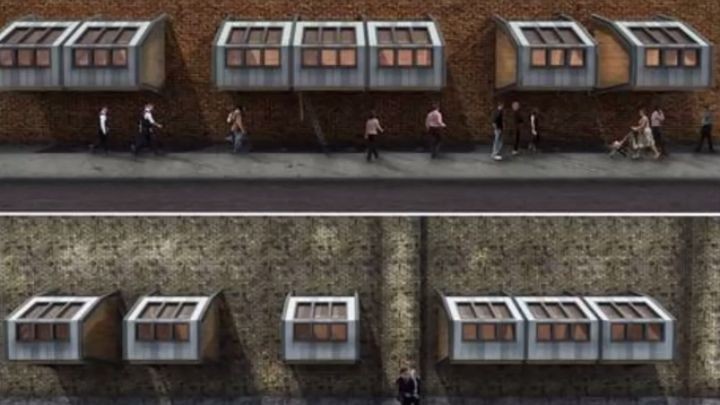 Visit any city and you'll see homeless people sleeping rough in doorways, on benches and in bus shelters. According to statistics from Homelessness Australia, it's estimated that 105,237 people are currently without a place to call home.
It's a problem for the people who find themselves homeless, who need somewhere safe to stay and it's a problem for society as we try to find ways to help. Walk past cardboard and makeshift tent cities, it's hard to remember they may be someone's home and they can look intimidating, leading us to dehumanise rough sleepers.
So if you were looking for somewhere to stay in a big city, the chances are you'd be want to stay somewhere bright, airy and close to the hustle, bustle and attractions of the CBD. This isn't a description of a high end luxury hotel – it's a shelter for the homeless.
James Furzer, an architect from London, has won an award for his innovative designs for 'pods' that could provide a more comfortable night for homeless people.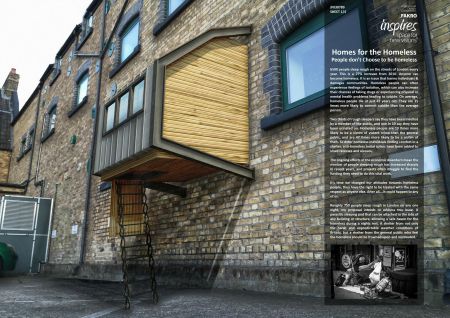 Ad. Article continues below.
The static pods are made of plywood on a steel frame and the idea is that they would be bolted to the side of buildings. The shelters look a little bit like a small home extension and have a mattress, some storage space and a small living area. The idea is that they would be attached to the side of a building, so that homeless people can access them easily in the day, if the weather's bad, or at night for a dry, safe nights sleep.
Furzer, thinks it's time we changed our attitudes towards homeless people and says they have the right to be treated with the same respect as anyone else. He came up with the idea for the pods when he noticed the growing number of metal spikes which have been placed around buildings in his native London. The short, stubby spikes are set in the ground in popular sleeping spots to stop the homeless from rolling out their swag.
The design uses the thermal qualities of the wood, as well as having large windows to let in light. Inside the pod, there would be a shelf with a mattress and storage space underneath.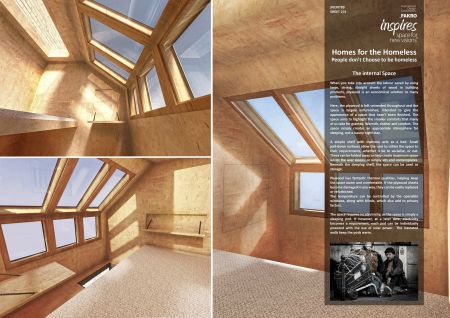 Furzer hopes the shelter protects the homeless from the harsh and unpredictable weather conditions of Britain, but also from the general public who feel the homeless should be frowned upon and mistreated.
Ad. Article continues below.
The idea would be potentially for a pod like  to be donated to a homeless charity, who could monitor it for a number hours every evening. The logistics of organising and monitoring the use of the pods would appear to be complicated. How would they be allocated, policed, monitored, cleaned and regulated?
There are all sorts of issues that need to be ironed out. Would you like to see these pods in your town or city? How would you feel if one was attached to a building you live or work in?
The design won the top prize in the Space for new Visions competition organised by Farko, a global manufacturer of roof windows and loft ladders.
The competition – which came with a 5,000 Euro (AU$7383) prize – featured around 60 entrants from around the world.
It's homelessness prevention week this week and this is one example of an innovative solution to help the homeless. What do you think should be done in Australia to alleviate homelessness?