Could this be the end of the postie?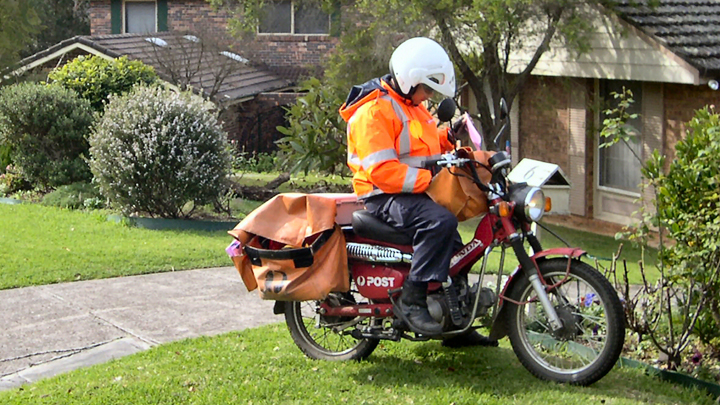 Our postman is a familiar sight in our neighbourhood, but a new plan by Australia Post could render them useless.
We know that technology is taking over our lives but we thought we were a few generations away from robots taking our jobs. It seems posties aren't in luck: Australia Post has revealed they want to trial drones to deliver mail.
For those not familiar with drones, it's a flying robot or aircraft that is unmanned and controlled remotely.
According to Auspost CEO Ahmed Fahour, the postal company has already begun testing deliveries using drones.
Mr Fahour told AFR Weekend, "We've been talking to a major customer, an e-tailer, who would like to particularly deliver to regional and rural communities.
Ad. Article continues below.
"How do you get the parcel they've bought [from the] street to their home? We're focused on convenience. So we're going to trial in 2016 with a major customer."
Mr Fahour said a drone could hold parcels weighing up to two kilograms.
"It meets all of the flying requirements, has backup engines, gps co-ordinates, so we can put it right on their patio," he said.
"It's the thin edge of trying to demonstrate that when you think of Australia Post – they're innovative. We're hopefully trying to show with the lockers [for parcel pick up], the app, that we are innovative."
Mr Fahour believes Australians are ready for the changes to the postal system, and says 2 million Aussies have signed up for My Post which enables bill payment, use of the Australia Post app and a 24 hour locker to collect parcels.
Ad. Article continues below.
The drone news comes after yesterday's news that Australia Post was launching a $20 million innovation capital fund, expected to grow to $100 million.
Of the profit slumps of the company, Mr Fahour said Auspost must change to stay relevant.
"If we only do what we have been doing recently, then as the letter goes down, the usage, then so  do we," he said.
"And that's not our job. As Australian's migrate and become more digitally aware, we want to change with them".
Tell us, do you like having a postman deliver your mail? Or are you unfazed by who does it?