Could the Wild West topple the government?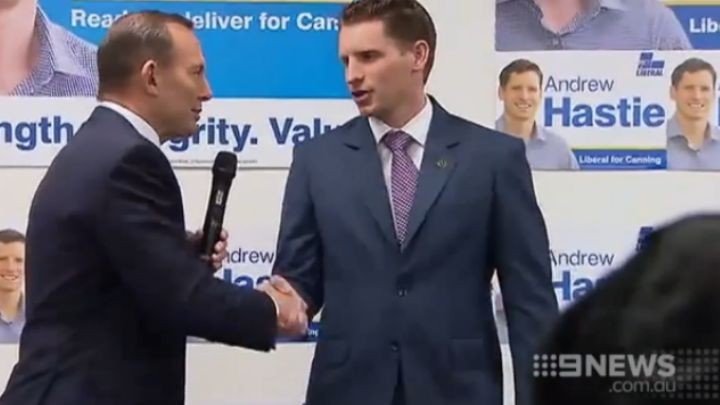 In two weeks' time the people of Canning, an electorate adjacent to Perth, will take to the polls to vote in a new federal member. The result of the byelection should be about Canning and Canning only, but it is being weighted down with far greater importance, with some saying the outcome could even topple the Prime Minster.
Julie Bishop told the ABC in certain terms: "The by-election will not change the Government".
So is this a media beat-up, or is there something in it?
The first thing to understand about Canning is that is it composed of two quite distinct urban areas: one with a high retiree population, the other home to many first-home owners.
The second consideration is that Canning has been a safe Liberal seat for 15 years thanks to Don Randall, who passed away suddenly in July. The question is, will Labor step into that empty seat – and will it be due to the policies of the candidate, Matt Keogh (who Julie Bishop described as a "hipster lawyer"), or a reaction to the policies of the national government?
Ad. Article continues below.
The Prime Minister yesterday made an appearance with Liberal candidate Andrew Hastie, who is a former SAS captain and served in Afghanistan and dismissed suggestions the by-election had anything to do with his leadership.
"It's not about me, it's about the people of Canning," he said, as reported by The Australian. "This … is about who can best represent the people of ­Canning in Canberra."
Elections expert William Bowe, speaking to The Conversation says, "We're seeing a lot of headlines about polls showing [the by-election] at 50-50, but if you look at them carefully, they're more favourable for the Liberals than that.
"Two polls from ReachTEL have shown the Liberal Party with a primary vote of 47 per cent, and if that's right they're going to bolt home. However, ReachTEL has 80 per cent of preferences from minor parties flowing to Labor, which is not believable. If Liberal candidate Andrew Hastie gets 47 per cent of the primary vote, he's going to win by about 55-45."
Mr Bowe says the Liberal candidate, despite being relatively unknown and having to match the enormous popularity left by his predecessor, is a good choice.
Ad. Article continues below.
"He is a good fit for the electorate. Given the Liberal Party's focus on national security, his background as an SAS officer is a great sell…. Why do we want a former SAS tough guy? Because he stood up to the Taliban and he'll stand up to criminals."
This doesn't mean a Liberal victory is a shoe-in, adds Mr Bowe. "My feeling is that the Abbott government has narrowed itself to very few lines of attack – national security and union corruption – and it has overreached on both of them. So, using these issues becomes counter-productive, and it has too narrow a front to attack on. It can't draw on a broader narrative that includes the economy and voters' hip-pockets.
"The Liberals are obviously aware of this, and they've launched a discussion on reducing income tax rates. But how can they sell tax cuts without dismantling the rest of their argument about restoring the budget?
"Western Australia generally has Labor starting from a long way behind. Polling is showing a swing to Labor a couple of percent higher than the national average. The Liberals are at such a high watermark after the last federal election, and they've also been in power at the state level for a long time.
"But there's a critical mass of people wanting to take a swing at the Liberal Party, either at the federal or state level. And if there is any anti-politician sentiment it's less likely to be taken out on Labor.
Ad. Article continues below.
"There are an awful lot of factors at play here, which makes it really messy to analyse," says Mr Bowe.
Meanwhile, Liberal candidate Mr Hastie also dismissed the talk about a leadership crisis at a national level.
"I'm very busy on the ground — I don't have time to take counsel from the east coast Twitterati," he said. "There's a significant disconnect between what people are saying over east and what's happening here in Canning."
Are you following the Canning by-election? Do you think it deserves the attention it's getting, or is it a matter for the  electorate?