Could Michelle Obama ever be president?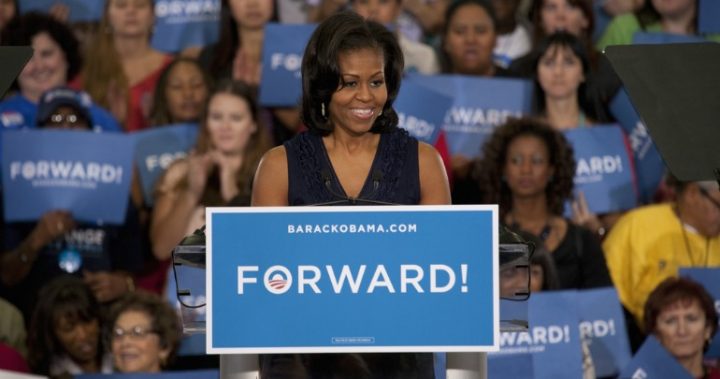 For the first time in a long time, America has a First Lady who is not only beloved at home, but admired around the world.
Michelle Obama has become somewhat of a saving grace in American politics and over the past few weeks she's emerged as the shining light in a rather vicious election campaign.
Over the past eight years when her husband's approval rating has dropped, Michelle's has remained high. In fact, it has been consistently high throughout her time as First Lady.
Michelle has taken less of a political approach to her role than some of her predecessors, choosing to stay out of lobbying and legislation and putting her efforts towards her Let's Move campaign and girls' education.
But in spite of her lack of political involvement, she's emerged as a favourite to run for the Democratic nomination one day in the not-too-distant future.
Ad. Article continues below.
Just last week, her speech in reaction to Donald Trump's comments about touching women went viral after she delivered a powerful retaliation against him.
Read more: Michelle Obama bites back at Trump in emotional speech
People pay attention to Michelle when she speaks because she has reserved her voice for the issues that are close to her heart. She has the ability to command the attention of the people in the room as well as those on the other side of a camera lens, too – something that is needed if you are to be commander-in-chief.
Her level head and her ability to make those around her feel comfortable and relaxed has made her more than a First Lady; she's an idol for many and a point of calm in the world of politics – to many she's mum-in-chief.
So could all this translate into a bid for president and would she be any good in the role?
Ad. Article continues below.
While both her and her husband have repeatedly said she has no interest in ever becoming president, we heard the same thing from Hillary Clinton when she was First Lady.
While many are supporting the idea, history has shown us that the public isn't so favourable about fist ladies gunning for more power. Hillary's approval ratings plummeted when she announced she was running for the Senate in New York and many were dubious about her bid for president.
Similarly, George Bush's wife Laura had one of the highest approval ratings in history for a First Lady, but at the suggestion that she might turn her hand to politics her ratings rapidly dropped.
Going on this, one could assume the same would happen to Michelle, but many argue she is different. With the younger generation behind her, there are hopes among her supporters that she could go all the way.
She also hasn't been tarnished by her husband's administration like Hillary and Laura were. Barack is ending his presidency on a high and the couple are enjoying an overwhelming amount of support as they mark their final days in the White House.
Ad. Article continues below.
So what would an Obama 2.0 presidency look like? It's likely that women's rights and the diminishing middle class would be at the top of the list. Michelle has work hard to bring equality for women in America over the past eight years often referring to her daughters as one of the main reasons she want to see change.
Likewise, both her and her husband have spoken about the need to help America's middle class rise up again and lift millions of citizens out of poverty.
While she has little experience when it comes to foreign diplomacy, so did her husband when he was elected and that clearly didn't stop him from making history. With a good Secretary of State by her side and a strong team of advisors she could overcome any shortcomings in this area and rise above it.
What are your thoughts?
Do you think Michelle will run for president one day? Do you think she would make a good president?