Could a second career be the best thing you ever do?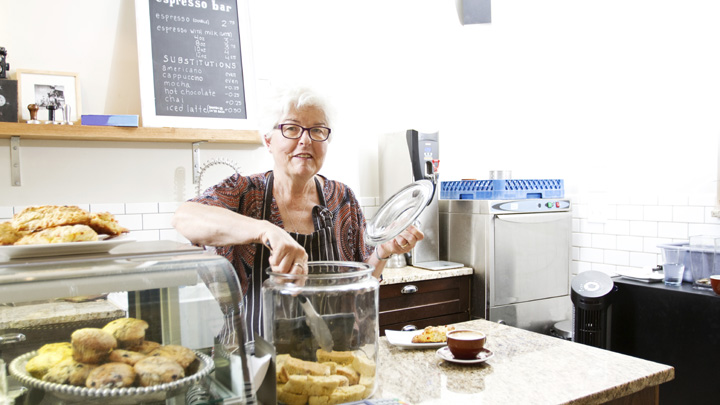 "I was 63, I had worked in the same service job for over 20 years and I found my life had fallen into an uncomfortable, uninspiring rhythm. The kids had been out of home for almost 10 years and every week was simply the same… Every day my husband and I got up and left for work, we ate dinner together every night except for Fridays: spent with our neighbourhood friends; Saturdays: spent with other friends and Sundays; spent with our children. He went cycling two mornings a week and I went to yoga on two mornings a week.
It was a happy life, but it was stagnant, we had no go ahead or true excitement. So we decided to make some for ourselves – we quit our jobs and we crazily, started a brand new business. We started a wine and cheese bar. It swallowed up the majority of our savings at first but after a while it became the best thing we had ever done. It was fun, going to work every day was exciting, we had great people around us and no two days were the same. We opened at 2pm every afternoon and stayed open until 11pm. We catered to all ages so we met a whole heap of interesting people. It was great, and that risk that we took paid off because five years later, we are happier than we have been in a long time."
The Starts at 60 team was told this story last week, and it got us thinking. If taking a risk to start a second career can bring so much happiness to an otherwise lacklustre life, then why don't more of us do it?
Why would I want a second career?
Ad. Article continues below.
For some people a second career offers them a new challenge to keep them active. Much like the above story, we can often find ourselves living stagnant lives without really realising it and a second career is a way to put some excitement back into life. Or for others, sometimes we are faced with challenges like redundancy or the loss of a job and in order to survive a career change is needed. Whatever the reason for starting a second career, they are a wonderful opportunity to stay active, engaged, finally live out your passion or to give back to the community.
What second career options are there?
Anything you can think of is a second career option. There are obviously things that are better suited to a more mature lifestyle, but as long as you are willing to work hard and you enjoy it, you can do anything. Some things that are generally popular include education, consulting, franchise ownership, career coaching or becoming your own boss working for yourself.
Ad. Article continues below.
How do I get started?
Firstly, have some kind of plan. If you're taking a big risk, make sure it is so some extent calculated and you have support to fall back on. Talk to people and meet others who have done something similar before so you have your own set of second career "mentors". And most importantly, choose something you are passionate about. The only way to make something like this work is if you can genuinely enjoy waking up every day to do it.
Second career can be useful to anyone in any circumstance, so whether you need extra cash or you are just looking for something to put some excitement back into life, you should definitely consider it as a great option.
Have you started a second career? What was it and how did you get started? Tell us in the comments below…