Controversial Fox correspondent slammed for racist and "vile" segment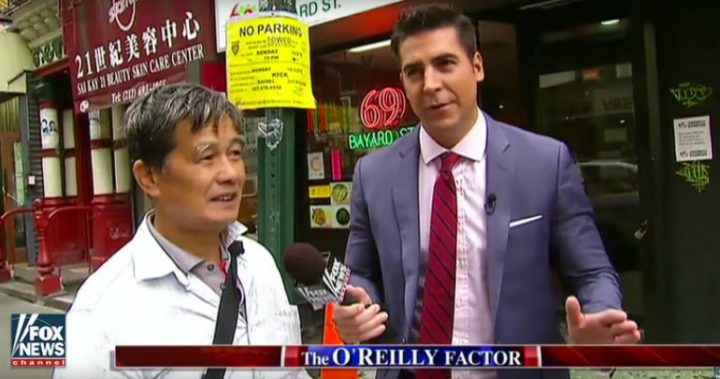 While there are more racist occurrences being reported lately, this segment that was aired on Fox News has provoked an uproar among social media users, elected officials and activists alike. In the segment (scroll to see video), a correspondent conducted a series of mocking interviews of Asian-Americans in New York City's Chinatown that critics said trafficked in odious stereotypes and veered into racism.
The correspondent, Jesse Watters, who has been accused of stalking and harassment for his ambush-style interviews on the street, expressed "regret" late Wednesday after provoking a storm of criticism for the segment that was broadcast on Monday. However, to make a statement, a group of elected officials and activists staged a protest outside the Manhattan headquarters of Fox News on Thursday.
Photo of the small protest outside Fox News HQ: pic.twitter.com/MyXXAyEKNc

— Peter Sterne (@petersterne) October 6, 2016
Protest outside News Corp against Fox News segment that ridiculed Asians. pic.twitter.com/0kLvTW1iAw

— Eric Fish (@ericfish85) October 6, 2016
Ad. Article continues below.
The Democrat Councilman Peter Koo released a statement saying, "Passing off this blatantly racist television segment as 'gentle fun' not only validates racist stereotypes, it encourages them. The entire segment smacks of willful ignorance by buying into the perpetual foreigner syndrome.
"How is it, that in New York City in 2016, this is still O.K.? Short answer: It's not, and it is unfortunate that Fox News needs to be reminded of that."
The Mayor, Bill de Blasio, took to Twitter calling the segment "vile".
The vile, racist behavior of Fox's Jesse Watters in Chinatown has no place in our city. @FoxNews – keep this guy off TV.

— Bill de Blasio (@BilldeBlasio) October 6, 2016
Ad. Article continues below.
Fox broadcast the interviews (seen at end of post) as part of "Watters' World," a recurring segment on "The O'Reilly Factor," the network's top-rated show. The host, Bill O'Reilly, introduced the piece by saying it had been inspired by how frequently China was mentioned during the first presidential debate between Hillary Clinton and Donald J. Trump.
But the nearly five-minute video was interspersed with references to martial arts and scenes of Mr. Watters getting a foot massage, playing with nunchucks and asking loaded questions that some residents appeared not to understand or couldn't answer. Clips from well-known movies were sprinkled throughout the segment, including "The Karate Kid" and "Chinatown."
Asian-American groups denounced the segment as flat-out racist, and the Asian-American Journalists Association said it was "outraged and shocked" and demanded an apology from the network. In a statement they released on their website, the group said, "We should be far beyond tired, racist stereotypes and targeting an ethnic group for humiliation and objectification on the basis of their race. Sadly, Fox News proves it has a long way to go in reporting on communities of color in a respectful and fair manner."
The influential blog Angry Asian Man, founded by Phil Yu, a Korean-American, described the segment in a post as "a new low, even for Fox News."
Ad. Article continues below.
"Jesse Watters went for a holy-crap-that's-so-racist-man-on-the-street approach," the post said.<
Mr. Watters previously responded to his critics on Twitter on Wednesday, saying he considered himself "a political humorist" and regretted that he had upset people. He said his interviews were meant to be taken as a lighthearted joke.
My man-on-the-street interviews are meant to be taken as tongue-in-cheek and I regret if anyone found offense.

— Jesse Watters (@jessebwatters) October 5, 2016
Mr. Watters and Mr. O'Reilly, however, appeared to know that the interviews would cause a stir when the segment was broadcast on Monday.
Ad. Article continues below.
"I know we're going to get letters," Mr. O'Reilly said. "It's inevitable." The Fox host added that he was surprised, considering how "insulated" he believed the residents of Chinatown were, that many seemed to be aware of what was going on politically.<
Mr. Watters said one man who had responded negatively to him was "one of many" who "hated" him. "They're such a polite people — they won't walk away or tell me to get out of here," he said, laughing.
"They're patient, they're patient," Mr. O'Reilly replied.
Renee Tajima-Peña, a professor of Asian-American studies at the University of California, Los Angeles, said the segment captured a longstanding and distinct feature of anti-Asian sentiment in the United States.
"They mock the Chinese and Chinese-Americans, yet the backhanded compliments — he said these people were so polite," Professor Tajima-Peña said. "That kind of duality of the perception of Asians has been there since time immemorial and the beginning of the republic."
Ad. Article continues below.
"We are either perpetual foreigners or we are the favoured model minority," she added. "We are a threat or we are docile."
Watch the segment here and tell us what you think:

Let's Talk: Do you think the segment was racist, or was it just "tongue-in-cheek" humour that was taken the wrong way?