Controversial Australia Day billboard removed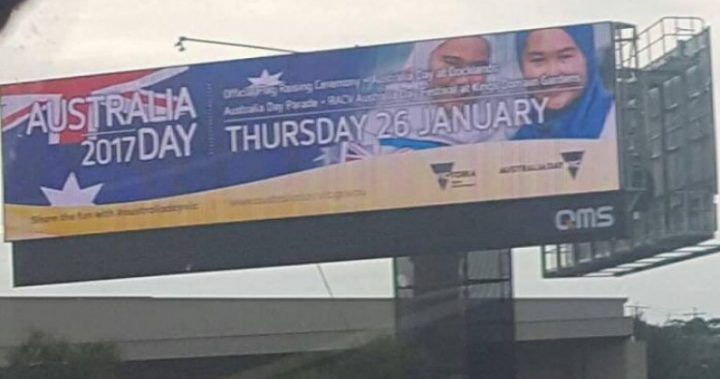 A billboard in Melbourne has caused outrage for featuring two women wearing hijabs in a campaign to promote Australia Day.
The electronic billboard has a slide show of different Australians from a number of ethnic and cultural backgrounds, but it was the shot of the two Muslim women that sparked debate.
Despite the fact that there have been muslim people living in the country for year, many said it was "un-Australian" to put them on the ad and demanded the whole thing be taken down.
Social media was alight with people airing their grievance and saying the national holiday should be depicted through photos of people having barbecues or swimming at the beach.
Bigotry alive & well as Australia Day billboard featuring women in hijabs taken down @abcnews https://t.co/leiYr51iNL pic.twitter.com/bkNWM0AF2H

— Simon Brisbane (@simbris) January 17, 2017
Ad. Article continues below.
Many claimed it was "PC rubbish" and demanded Victoria's Multicultural Affairs Minister Robin Scott remove it.
Others though, were quick to jump on the defence pointing out the ad featured a number of other culturally-mixed Australians asked why the Muslim women were deemed so offensive.
It appears the backlash became too great for QMS, the company responsible for the ad, who announced they would remove it today.
"Anyone who considers this a victory needs a refresher on the true meaning of Australia Day," said Minister Scott.
Ad. Article continues below.
"It is about bringing people together and celebrating the diversity which makes this state and this country great.
"It's very disappointing to see a small minority attacking proud Australians for their love of their country."
It's not the first time something like this has caused an issue, but it seems to crop up time and time again.
Many people recognise there are plenty of Muslims in Australia who consider the country their home and love the culture and way of life.
However, the millions of hardworking, taxpaying Aussie Muslims are being tarnished by the actions of an extreme minority.
So where do we draw the line?
Do you think this ad wrong and PC? Or is it an accurate representation of Australia?