Would you send this back? Customer's bizarre reason for RSL complaint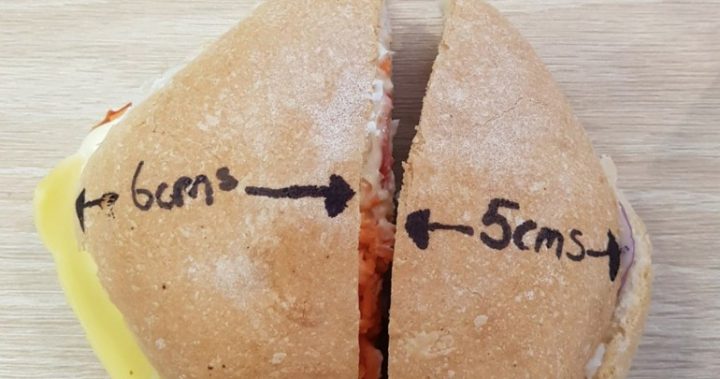 You've probably heard of the saying that the customer is always right, but this example may actually take the cake.
Corowa RSL Club in New South Wales, Australia, couldn't help but laugh when a customer returned a sandwich to the kitchen because it wasn't cut exactly in half. Taking to their Facebook page, the RSL informed their locals that a customer had sent the sandwich back to the kitchen and made a formal complaint about the "bad" meal she had received.
"Close by not close enough," they said, posting a photo of the sandwich in question. "The girls were 5mm off a direct centre cut yesterday. This was brought back as a legitimate complaint + the roll was replaced."
The staff had drawn on the roll to illustrate the tiny error they made on the lady's order. It showed that one side of the sandwich was 6cms in width, while the other was 5cm. This meant that rather than being cut exactly in half as the customer had requested, one piece ended up smaller than they had hoped.
Ad. Article continues below.
The RSL continued: "For those who have worked in hospitality you will understand the randomness – if you can't have a laugh life will be pretty dull! #hospitalitylife."
People were quick to share their opinions online when it came to the lady's complaint. One person wrote: "It was good of you to remake. If my toddler made that same complaint (which is unlikely) I would have refused to remake a perfectly good roll. Good on you for your hospitality and patience."
Another comment read: "Oh wow I can't believe I am reading this. Some people need to get a life!!! Keep up the good work guys do you an amazing job." A further message read: "The fact you were even cutting it was a nice courtesy. Make a new policy, from now on give them a butter knife and tell them to cut it themselves!"
One person even credited the staff for getting it so close: "It would've been hard for them to cut it EXACTLY in half, unless they used a machine that would cut it to laser-like precision. They missed the mark by 5mm! Boo hoo! It is NOT brain surgery."
Ad. Article continues below.
What do you think? Is the customer always right? Was the customer right to send the sandwich back? Would you have replaced it if you were working at the RSL?
---
With Facebook removing news sites from your feeds we ask that you sign up for Starts at 60's emailers here. And to keep us on your wall, join some of our new Facebook groups and clubs:

News Junkies Club – Australia
News Junkies Club – USA 

See news on the change and links to all our other clubs and groups here.