Viral video of heartless Aldi scam has an unexpected happy ending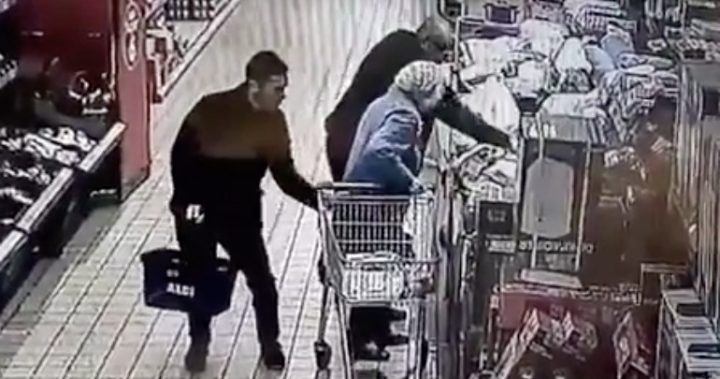 What is this world coming to when innocent elderly women are being robbed at the local supermarket? Yet that's exactly what happened at this Aldi store in the UK. But this tale has a surprisingly happy ending.
CCTV footage has captured the heartbreaking moment an 87-year-old woman has her purse stolen from her.
As most of us do on a regular basis, the lady is shopping with her handbag sitting in the top of her trolley. As she walks down the aisle, a man distracts her.
It looks as though the lady is offering him some help or advice in the fruit and vegetable section of the store.
Ad. Article continues below.
Unbeknown to her, another man is sneaking up behind her, ready to snatch her belongings. He leans in, puts his hand deep inside her purse, and takes off with it, after checking to ensure it has cash in it.
The lady is completely oblivious as she continues to help the first man with his question.
The incident took place in the British town of Oswestry in Shropshire, and the CCTV footage was released by local police, who also released pictures of the thieves on Facebook, where they've been shared widely.
The video of the robbery itself has been viewed thousands of times after it was posted on the social platform by various media outlets.
But while the two men in question are still on the run, the local community has banded together to help out the lady.
Ad. Article continues below.
The Sun reports that one woman set up an internet crowdfunding campaign to raise funds to replace the stolen cash.
Amanda Williams explained on her fundraising page: "I would like to help this 87-year-old lady who was just doing her shopping.
"This could be my nan, your nan, it's not nice to happen to anyone. Please help me to make this lady believe that there is some good out there still."
Hundreds of people have left well-wishes for the unknown lady on social media.
One person wrote: "I can't imagine how this lady must feel… There are some awful people in this world."
Ad. Article continues below.
Another said: "Was so disgusted to see that video – chop their hands off."
A third added: "I really hope that knowing how much people care about what happened to you helps with the distress that these scumbags have caused and shows there are more good people than bad in this world."
She initially aimed to raise £200 (A$343, US$262), but at the time of publication, over £2,400 (A$4,121, US$3,151) had been donated.
We're glad to see there are still good people in the world, even when terrible things happen. 
Has this ever happened to you while you've been shopping? How do you protect yourself when you're out and about?