Video of shameless thief warning about 'tap and go' risk goes viral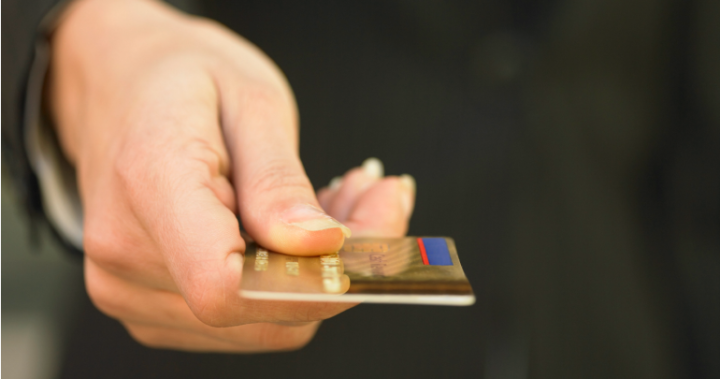 'Tap and go' cards have made it quicker than ever to pay for shopping but the convenience comes with a risk. Because it's not protected by a PIN for purchases under a pre-set threshold, anyone can use the card if it's lost or stolen.
It's a security issue that one cheeky anonymous thief has drawn attention to in the most graphic way possible – by sharing a video of herself going on a shopping spree with a card she claims she found in the street, and warning that there are plenty of other people out there like her, ready to do the same thing.
The video, posted on Instagram by TheStreetBlogsUK, appears to have been filmed around London's Brixton neighbourhood. It shows the thief with the Lloyds Bank card in her hand and the caption "found". She then tests out the card by buying a drink from a supermarket, captioning the scene: "The card works".
Ad. Article continues below.
She even shamelessly displays the receipt to prove the card worked. Next, she purchases a meal from McDonald's and gives it to a homeless person, writing "Bad deed for a good deed innit", before going on to treat herself to some Nike tracksuit bottoms from a sportswear shop. The fraudster pointed out that she could purchase them within £30 (AU$53) cashless card limit and once again boasts by showing off the receipt.
She buys gum and tops up her train card before turning the camera on herself to issue a warning. Her identity is blurry as she says: "So this morning I found a square [bank card], spent all the money off of it". She then adds, "Now, just don't lose your contactless cards guys, you have been warned. I am about".
Nearly two million ATM cards are reported lost or stolen in Australia each year, according to a Westpac report on emergency cash, which reveals that one in eight Australians lose their bank cards every year. The new contactless feature on cards makes it a lot easier for thieves to spend Aussies hard-earned dollars.
While they can't take out all your cash at once, thieves can still make small purchases on items for reselling or personal use. In the English video, the woman notes that the card limit didn't stop her from spending every dollar on the card. 
Ad. Article continues below.
Another added issue when using a contactless card is identity fraud. Contactless cards often have built-in contactless payment technology called RFID. This technology means physical contact with your card is not required to make a payment. Many fraudsters carry around scanning machines that when placed a few centimetres away from a contactless card can copy its details and personal information.
Banks fight back against this risk by offering alerts and guarantees. Westpac, for example. uses a fraud detection system that alerts card owners to unusual transactions, and provides a money-back guarantee that reimburses customers for unauthorised transactions as long as the cardholder notifies the bank that their card has been lost within a reasonable time.
Do you rely on your credit card or do you always carry around cash? Have you ever had your credit card stolen?
With Facebook removing news sites from your feeds we ask that you sign up for Starts at 60's emailers here. And to keep us on your wall, join some of our new Facebook groups and clubs:

News Junkies Club – Australia
News Junkies Club – USA 

See news on the change and links to all our other clubs and groups here.